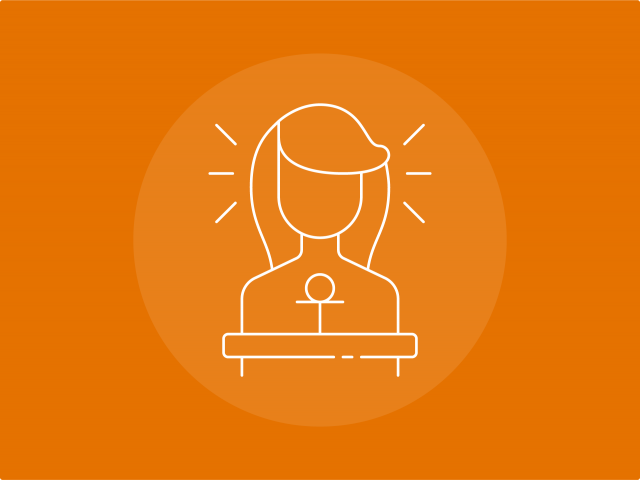 Wisdom From Female Experts at Darden
"You have to be kind to everyone. You have to pay attention to everyone. You have to humanize everyone. You have to listen to everyone."—Toni Irving
As Women's History Month 2021 comes to a close, female faculty members at Darden share wisdom on leadership, business, and investing in the well-being of oneself and others.
Advancing in Leadership and Building Relationships
"I just can't emphasize enough the importance of developing a diverse array of relationships — from every level," says Professor of Practice Toni Irving. "You have to have extremely strong peer relationships, and you have to have very strong relationships with people who don't seem like they would drive your success. You can't anticipate in advance who that's going to be."
Irving teaches the class "Getting in the Room Where It Happens," a nod to the expression popularized by the musical sensation Hamilton and a phrase that speaks to the unwritten playbook for influence in organizations.
Beyond the importance of cultivating relationships for one's own advancement, Irving emphasizes the importance of a leader's responsibility to all employees, including those who might not be naturally part of one's process. "It's natural that people turn to the people they're most comfortable with, that they feel connected to, etc. But then that makes it much harder for women, for people of color or people of different sexual orientation."
Hear and read more in an episode of the Darden Ideas to Action podcast, "The Guide to Getting in the Room Where It Happens," which features Irving in conversation with Sean Carr, executive director of Darden's Batten Institute.
Cultivating Relationships and an Environment of Trust
"When I teach leadership development, trust comes up again and again. It's what makes businesses work," says Morela Hernandez, the Donald and Lauren Morel Associate Professor of Business Administration.
If trust is vital to leadership, how do leaders — particularly new leaders — build it? Hernandez advises demonstrating respect for the team and showing that one will seek team members' input on important matters while treating them fairly.
"Leaders are often called upon to exude competence, maintain relationships, and clarify situational priorities," Hernandez notes of the juggling act that comes with a position of influence. But ultimately, despite stress or crisis, they shouldn't shortchange relationships.  "Leaders wishing to enhance follower trust should invest time in crafting and maintaining positive leader-follower relationships. In fact, in the era of Zoom meetings, building relational connections with and among team members might be the most worthwhile investment leaders can make."
Read more on the importance of relational trust in "How Leaders Build Trust."
Authentic Engagement and Race in the Workplace
"In the past year, we've seen more of a push to hire minorities, and we understand the value that diverse identities bring to the quality of work that organizations engage in on a daily basis," says Professor of Practice Laura Morgan Roberts. "We also see how diversity enables those organizations to build relations with communities of stakeholders that go beyond tokenism."
Roberts, whose research and consulting focus on the science of maximizing human potential, studied how cultural minorities navigate challenges — and in fact find pathways to assert racial identity as an asset.
Some professionals "are using their identities to help craft output that enhances not only their professional standing, but also the reputation and the legitimacy of their organizations, and that in itself is a really compelling business — as well as moral — case for diversity."
Meanwhile, forward-thinking leaders and organizations looking to show up as allies to their colleagues from culturally minoritized groups, as well as capitalize on the very real promise of diversity, would do well to be mindful that talented people are doing "mental and emotional gymnastics all day long as they figure out how they can authentically engage their minoritized identities as sources of strength so they can maximally contribute."
To learn more about "identity mobilization strategies," read "Race as a Resource: Strategies to Assert the Asset of Racial Identity."
Guiding Yourself and Others Through Crisis
Who among us could not benefit from practical actions to bring greater clarity, calm and goodwill in a moment when how you show up as a leader really counts?
"In times like these, leaders need to watch out for at least two potential leadership blind spots during a crisis," says Lili Powell, associate professor of business administration. "One involves overreacting, and the other involves denial," she explains. "Unfortunately, both reactions are recipes for in-the-moment missteps, something that leaders and their teams cannot afford in an ongoing crisis." Work cultures that deal in chronically stressful situations and that valorize a "suck it up" ethos are especially at risk for individual, team and organizational burnout.
In addition to her faculty role at Darden, Powell serves as Kluge-Schakat Professor and director at the Compassionate Care Initiative, both at the UVA School of Nursing. She is a proponent of a Leading Mindfully approach, which encourages leaders to attend to both the "inner and outer work" of navigating uncertainty, both for themselves and for those who follow their lead. 
A stress-induced hyper-focus on survival can transform if one can "gather your wits, accept what's real, get into a learning stance and guide your team's collective attention."
Learn about Powell's strategies in the three-part series "Leading Mindfully: COVID-19 and the Big Human Pivot."
Supporting Leaders Beyond Your Organization
"Women in emerging markets have ideas worthy of investment, but many don't have sufficient access to formal business education in schools — and informal education through networks — because of historical social biases, cultural norms or regulatory constraints," says Mary Margaret Frank, senior associate dean for faculty development and John Tyler Professor of Business Administration at Darden.
If an entrepreneur is perceived to lack the appropriate skills to execute on an idea, capital providers will consider the investment risk greater and require more expected return. So how does one lower the perceived risk or increase the expected return?
Frank examined a public-private partnership (P3) that answered the question with education: Goldman Sachs 10,000 Women. In addition to its first stage of providing education, mentoring and networking, in its second stage, the P3 partnered with organizations to create a pool of private capital aimed at economic development and support of female entrepreneurs in over 50 countries.
"These efforts represent the heart of impact investing: creating a financial innovation that reduces risk or increases returns such that private capital is deployed to address a worthy social and economic goal."
Goldman Sachs 10,000 Women was a finalist for the annual P3 Impact Award, which recognizes leading public-private partnerships that improve communities around the world. The award is presented by Darden's Institute for Business in Society in partnership with Concordia and the U.S. Department of State Secretary's Office of Global Partnerships.
Read more in "Goldman Sachs 10,000 Women: A Public-Private Partnership," written by Maggie Morse, director of programs at Darden's Institute for Business in Society, at which Mary Margaret Frank is an academic director.
More from
Leadership & Management