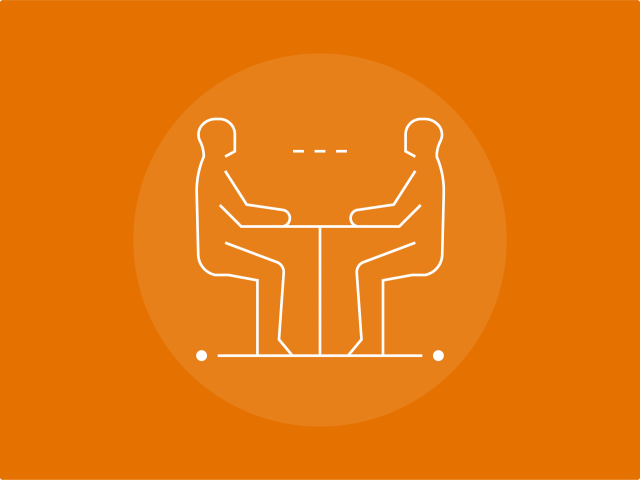 Practicing Presence in Everyday Life
Although business communication encompasses all forms of media, none can compete with the power of an executive's physical bearing and aura of conviction. Leaders communicate their expectations and priorities not only through words, but through their presence and actions. In short, a leader's credibility and reputation can depend a great deal on how — and how much — he or she embodies the message.
Many may associate leadership presence with giving a polished and compelling presentation during intense and high profile spotlight moments. But in a sense, as a leader, you are always on stage. Even everyday moments present opportunities to practice leadership presence. Seemingly backstage moments may be read by others as "the real you," thus carrying a different kind of weight.
Practicing presence in everyday life relies on many of the same underlying principles and skills as preparing for the big center-stage moments or even improvising under pressure. You'll still want to develop presence within yourself so you can be present and flexible in the moment. You still may need to practice reaching out to make meaningful connections. You still may need to animate your words and actions with more expressiveness. And you'll still need to know who you are, what your values are, and what you stand for.[1]
But the form of delivery looks different when practicing presence in everyday life. It may be more contemplative, physical or take place in more naturalistic settings than center stage. For example, if you want to increase your capacity to be present and express your true feelings, you may spend time journaling or scrapbooking. If you'd like to improve the quality of your attention and connection with others, you might start with meditation or prayer. Some may practice yoga or running to clear out mental cobwebs and to improve confidence through physical training. But the ultimate test of leadership presence will be how well you can connect with others.  After all, it is hard to create presence if you are only partially there.
Everyday presence projects invite you to be creative, but you'll also need to exercise some discipline too. Ideas include:
Collecting meaningful quotes, personal stories, images and memorabilia in a scrapbook or toolkit that will help with future presentations
Self-study and practice of mindfulness or loving-kindness meditation, by using an app such as Headspace
Self-aware observation and reflective writing focused on speaking less and listening more
Practicing more "zest" and connectedness in everyday conversations
Developing and flexibly delivering talking points in response to common everyday questions, such as "How's business?"
Depending on your needs, you could adopt a set of ongoing practices or exercises or try mini-experiments related to your performance goals. This is a good option for you if you feel that your main challenge is learning to be more present and appreciating your values and beliefs. The hope of this kind of project would be to enable you to "show up" in your life in a way that enriches your leadership presence.
Developing leadership presence can take so-so interpersonal communication and presenting skills to a new level of performance and confidence. Although it is convenient to speak about leadership presence as something that a speaker possesses, it is more accurate to think of it as an experience created in interaction with an audience. Whether the audience is one other person or a crowd, leadership presence really matters most when it is perceived in the eye of the beholder. Whether he or she is speaking or not, think of the listener as contributing at least half the meaning that is created in the moment. Part of your leadership presence skill is drawing the other in to also be present, reach out, be expressive and become more self-knowing. Whichever project you work on, remember that the ultimate objective is to create a more meaningful connection between you and the people you want to influence.
This post is adapted from Darden Professor Lili Powell's technical note Project Ideas for Developing Leadership Presence (Darden Business Publishing). Please see its companion piece, "Now Presenting: Leadership Presence," for exercises to help individuals develop leadership presence in the context of a formal presentation.
---
[1] See Belle Linda Halpern and Kathy Lubar, Leadership Presence: Dramatic Techniques to Reach Out, Motivate and Inspire (New York: Gotham Books, 2003), 8-9.