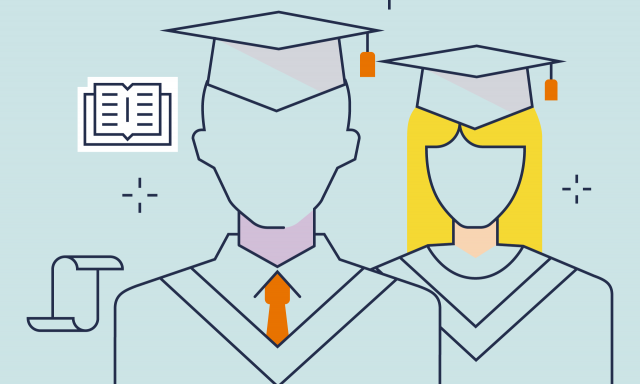 Graduating to the Next Level: 5 Leadership Lessons for New Graduates (and Anyone Else)
It's graduation season around the world, and millions of graduates are stepping forward into the next phase of life with high hopes, ready to apply what they've learned. Graduation provides a moment for reflection on what they have achieved and on what they'd like to accomplish in the coming years.
In that light, Darden Ideas to Action offers these words of wisdom for graduates (and anyone else) on how real people with a real sense of purpose can make the workplace more productive, responsible and, well, happy.
Build Trust
"Without trust, you cannot lead." It's a motto of sorts for Professor Morela Hernandez, as she explains in "How Leaders Build Trust." But how do new leaders build it? Hernandez advises demonstrating relational leadership first. That means showing you respect your team, will seek their input on important matters and will treat them fairly. There are three "foundational" kinds of leadership (personal, contextual and relational) that each have an impact on trust. However, relational leadership behaviors stand out as "central determinants of follower trust creation" and the "lens through which all other actions will be interpreted."
Learn From Failure
Under the right conditions, people can learn from incredibly difficult setbacks. In fact, in the presence of certain qualities, failure can be a primer for success. Professor Sean Martin takes a look at the UVA men's basketball NCAA Tournament championship to highlight how a gut-wrenching experience can set the stage for a team's development, given key characteristics: a learning orientation, high-quality feedback, adaptivity, and a balance of development of individuals and the team as a unit … to name a few. He elaborates in "The Art (and Science) of the Bounce Back: Organizational Lessons From UVA's Historic National Championship."
Be Present
No form of communication can compete with the power of an executive's physical bearing and aura of conviction. Leaders communicate their expectations and priorities not only through words, but through their presence and actions. Often, everyday moments present opportunities to practice leadership presence. The form of delivery looks different in everyday life, the backstage moments others may interpret as "the real you." In "Practicing Presence in Everyday Life," Professor Lili Powell offers ideas to help you hone these skills: Collect meaningful quotes, photos and stories to help with future presentations; practice mindfulness techniques; make time for reflective writing; and develop engaging responses to common questions, such as "How's business?"
Treat the Workplace Like an Organism, Not a Machine
We're in a new era in the history of business. The old bureaucratic-machine paradigm isn't enough for success anymore, and today's fast-changing economy requires a new framework for the workplace. As Professor Joseph Harder explains in "Bringing the Workplace to Life," professionals need to take stock of their personal energy management, learn how to see colleagues as whole people rather than cogs in a machine and look out for seven keys to a strong workplace culture. It's a recipe to balance changing workplace culture and maintain productivity so your organization and its people can thrive.
Be Courageous and Act on Your Ethics
We will all face moments where our values and ethics are challenged in small but important ways. Professor James Detert in "Workplace Courage: When Vulnerability Signals Strength" notes that leaders who practice "voluntary vulnerability" — seeking negative feedback, accepting help, admitting they don't know something or apologizing publicly — is considered an act of courage by colleagues, not weakness, and can often lead to better results at an organization. Professor Mary Gentile believes most people have a strong ethical foundation, but need practice to successfully act on their ethics. In "How to Act on Your Ethics," Gentile provides tips on how to start practicing. "The key is to think strategically about what you can realistically do to meet your ethical goals, given the realities of your context."
More from
Leadership & Management