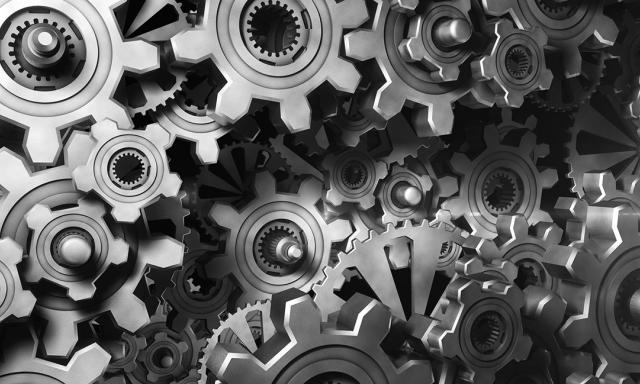 Beyond Strategy: Three Steps Toward Execution
The proceeding is a follow-up to "Beyond Strategy: Three Lessons and Four Ingredients of Execution" which appeared on Ideas to Action in September 2015. 
We view enhancing execution capability in terms of a three-step process. Recall that our overriding priorities are to (1) profile businesses in ways that are usable by the senior team, (2) do so using operational data currently accessible in the business, (3) provide rapid diagnostics of execution capability and (4) prioritize targeted interventions to address capability gaps.
Step One: Business Assessment
The first step is making a realistic assessment of current and desired financial performance for each business unit. Typically, we focus on two primary financial drivers (growth and margin) and a secondary driver (performance variability) of firm valuation and share price. The assessment of current and desired state has as much to do with strategic goals as it does with firm performance, and much of the decision has to do with positioning within the competitive set. Top-quartile performance may not be the goal, and/or it may not be feasible in the current time period. In our experience, this assessment leads to a robust discussion among the management team, which is necessary for establishing priorities for strategy execution.
Step Two: Analysis of Underlying Metrics
The second step, analysis of key metrics that operationalize the 4A model, helps us establish a predictive execution index for each line of business. Alignment, ability, architecture and activation each are composed of three more specific "enablers" of execution performance. Each enabler, in turn, is operationalized by a set of common internal metrics. Aggregating across these metrics, each line of business receives a rating that is then conveyed as a predictive execution index. The value of this approach is that it provides a summary indicator of organizational health, but more prescriptively it also provides a set of lenses with which to probe more deeply into the root causes of any performance gaps.
As a byproduct of this analysis, we also find it useful to present the predictive execution index data graphically to show the execution profile of a business unit.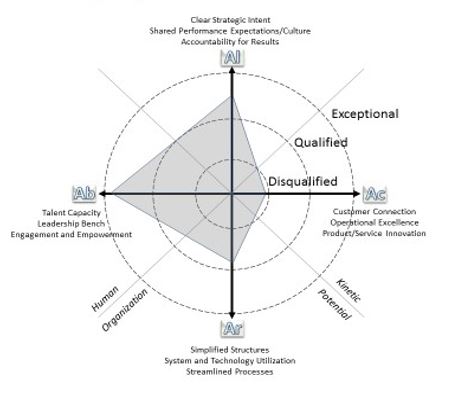 This figure, for example, illustrates (using a radar graph) a business unit with considerable strengths and some debilitating weaknesses. Specifically, the alignment and ability factors are rated within the zone of "exceptional" performance. The architecture factor is supporting at a "qualified" level, meaning that although improvements are needed, concerns are not urgent. However, this business has a rating for activation that is in the "disqualified" zone and needs immediate attention. Without targeted interventions to improve capability on this dimension, the impact of the other three will likely be compromised.
These three rating zones — exceptional, qualified and disqualified — reinforce the evidence we have found that even superior capability in one area cannot make up for excessive problems in another. If there is a "disqualified" rating on one or more factors, nothing else much matters; execution will be deficient. On the other hand, once execution capability falls within an acceptable zone across all four factors, the model actually becomes "compensatory," in that strengths in one area can actually substitute for (some) weaknesses in another. For example, one executive told us, "Great processes make up for average talent, but great talent cannot compensate for bad processes." We would agree, within certain limits. If either of these factors falls into the "disqualified zone," excellence in another category will likely not matter.
Step Three: Action Plan for Targeted Intervention
This discussion leads to the third step in the process: establishing an action plan for targeted remedies to execution gaps. When done right, these action plans build on information from the predictive execution index and essentially serve as a "playbook" that allows others within the organization to act on the information. To achieve this, four conditions have to be met at this stage: (1) establish clear priorities for action, (2) identify owners of each intervention or initiative, (3) budget for all the required resources (financial, human, information) and (4) agree on timelines for action and review.
Conclusion
We've been on a journey; we've learned a good deal about the elements most critical for execution. It has enabled us to focus more precisely on those factors that matter, driving performance, and it helps to create a more robust organization that leads to resilience and new strategic possibilities.
Our purpose for this article has been to present a model that helps business leaders frame the challenges of execution. And just as importantly, the approach we recommend emphasizes usability, simplicity and relevance, so that business leaders might sustain momentum of the approach over time. In our experience, the upside potential for planning, communication and performance management is significant.
Although our primary focus has been on relevance to the CEO and leadership team in general, we believe there are also clear learning points for the HR profession and CHROs in particular. Various observers have at times argued for a more narrow definition of the HR function restricted to just talent management or just analytics, while at other times they have perhaps inadvertently separated the function from other parts of the enterprise by emphasizing "HR professionalization." We take just the opposite view; the opportunity for HR leaders is to broaden their purview and influence in a way that impacts business performance in total, evolving the role of the CHRO to more like the "CFO" of human, social and organizational capital. We would argue that when our focus is on execution capability and performance of the entire firm, narrow functional walls serve neither HR nor the organization well. Instead, our goal continues to be enabling progress toward a transformation of HR to ensure that the strategic purpose, capability and performance expectations are understood and integrated throughout the entire organization. Doing so increases the likelihood that executional excellence will occur and be sustained over time.
The preceding is excerpted by Darden Professor Scott Snell, Kenneth Carrig and Aki Onozuka's paper "In Search of Execution," which will appear in View From the Top: Leveraging Human Capital to Create Value (Society for Human Resource Management). Please see its companion piece, "Beyond Strategy: Three Lessons and Four Ingredients of Execution," which details the factors that make up the 4A Model of Execution Capability. 
The findings were presented at a CHRO Roundtable held in partnership with the Antai College of Economics & Management at Shanghai Jiao Tong University.
Companies that participated in the research include:
| | | |
| --- | --- | --- |
| Abbott | Ericsson | McDonald's |
| Accenture | General Dynamics | McGraw-Hill Companies |
| Ally Financial | General Electric | McKesson |
| American Express | Gilead | Moody's Corporation |
| BAE Systems | Hewlett Packard | Motorola |
| The Blackstone Group | Hyatt | Munich RE |
| BloominBrands | IBM | Newell Rubbermaid |
| Boeing | Intel | Northern Trust |
| Broadridge Financial | ITW | Pfizer |
| Carter's | Kaiser Permanente | Safe-Guard Products |
| CDW | Laureate | Sears |
| Citi | LinkedIn | SunTrust |
| Coca-Cola | Lockeed Martin | Symantec |
| Coca-Cola Enterprises | Marriott | U.S. Army |
| Delta Airlines | Marriott Vacations | Workday |
| Equifax | Maximus |   |