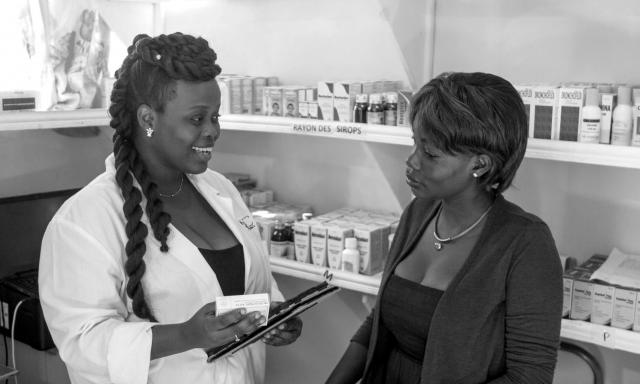 Mission-Focused and Market-Driven: Sustainable Health Care in Haiti
The Social Challenge
Sustainable Primary Health Care for Communities in Need
Haiti is the Western Hemisphere's poorest nation and ranks among the lowest income nations worldwide. For decades, the country has suffered from a chronic cycle of economic, social, natural disaster and governance crises. A study in the Bulletin of the World Health Organization found that only 23 percent of Haitians live within 5 kilometers of a high-quality health facility. In a country where one in 14 children dies before the age of 5, communities urgently need solutions for effective health care delivery. The challenge is not access to health clinics, as there are hundreds of public clinics in Haiti. The real challenge is that most primary care clinics are chronically under-resourced, suffering from financial deficits, lack of management and supply chain, no data collection, and — usually — no electricity or running water.
The Partnership
Care 2 Communities Partnership to Deliver Quality Sustainable Primary Health Care in Haiti
The Partners
Care 2 Communities

Haiti's Ministry of Health
The Idea and the Action
In early 2018, Care 2 Communities (C2C) and Haiti's Ministry of Health formed a public-private partnership that combines C2C's effective social business model with the Ministry's large-scale capacity to effectively improve access to high-quality, sustainable, community-based primary care across Haiti.
The government of Haiti saw a potentially transformative solution in C2C's work, which demonstrated a commitment to primary care excellence, high standards for cost-effective operations and a focus on community integration. Together, they seized an opportunity to rehabilitate existing underperforming government clinics across the North of Haiti through a public-private partnership (P3). Since then, the partnership has expanded its network to six community-based, primary care clinics that provide affordable, reliable, quality care in areas where health care services are lacking.
This partnership is unique in Haiti, where health care facilities are either operated by the government with deficient resources and low-quality care or by aid organizations that, while better funded, are subject to the ebb and flow of donor support. This P3 uses a social enterprise model, using a market-driven approach to achieve its mission. Its hybrid funding design — charging patients in addition to receiving philanthropic support — has significantly improved the long-term sustainability of community-based health care to populations that need it most.
The Impact
At the first P3 clinic, which opened in 2018, C2C lifted Haitian government quality benchmark scores from 40 percent to 80 percent and reached 90 percent cost-recovery in just six months. At this point, all of the P3 clinics are now showing double-digit increases in volume, revenue, pharmacy and lab capacity, and patient health-seeking behavior. From 2017 to 2018, patients treated grew over 50 percent, and in many communities the partnership serves, it has added access to lab testing and pharmaceutical services that simply did not exist before.
Now, looking forward to 2020 and beyond, the partnership is "transitioning to scale." It plans to at least double its footprint in the next one to two years (growing patient reach from 23,000 to 50,000+) with the launch of six (or more) additional clinics. As it scales, it will continue to emphasize financial sustainability.
The partnership's short-term goals include integrating each new clinic into C2C's management system, improving quality scores via the government's measurement tool and C2C's monitoring and evaluation methods, and improving cost-recovery at each clinic (targeting 90 percent at each clinic). The long-term goal is to improve health outcomes for low-income families in Haiti by expanding access to affordable primary care and improving operational efficiency and quality across the nation's public health system. The key to this effort is achieving deep systems strengthening and change on multiple levels.
The Faculty Insight
The health care needs of Haiti are simply overwhelming, and multiple NGOs and nonprofits have sprung up to try to address these needs. The problems in Haiti are rooted in delivery of basic health care, and the current under 5 mortality rate of 23 percent is a stark measure of the needs in the country. Despite all of the nonprofits with clinics and mission trips, health care outcomes do not appear to be moving. This is a result of unstable funding of NGOs, lack of coordination with the health ministry and existing health care systems. In addition, the social and political unrest in Haiti results in cancellation of trips and closure of clinics, preventing meaningful progress.
Success can only be achieved with a true NGO government partnership through coordination with local health care activities, and C2C's model has filled this niche. Fundraising is always a challenge for nonprofits. There is always the allure of pursuing activities that will generate revenue, but this is a slippery slope unless the activities are mission-focused. The model of C2C, with appropriate fees charged to patients for visits and treatments, fulfills the mission of the organization and also places some of the responsibility for health care on the patients themselves, which is empowering. C2C's model coordinating and working with the local government as well as engaging the local community and patients has led to a powerful multilevel partnership that is making a difference.
The Darden School of Business' Institute for Business in Society partners with Concordia and the U.S. Department of State Secretary's Office of Global Partnerships to present the annual P3 Impact Award, which recognizes leading public-private partnerships that improve communities around the world. This year's award will be presented at the Concordia Annual Summit 22–24 September 2019. The five finalists will be highlighted on Darden Ideas to Action on Fridays leading up to the event.
More from
Business, Ethics & Society