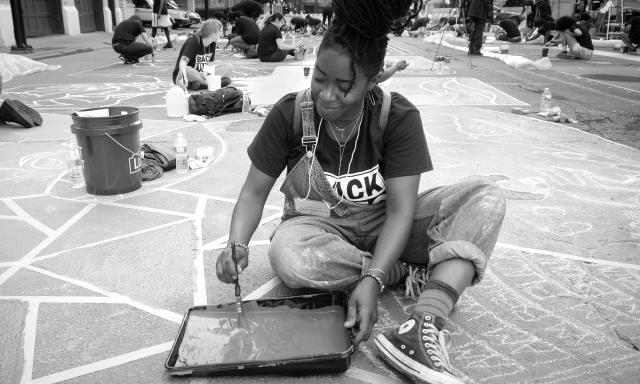 The Art of Community: The Potential and Power of Collective Art
In challenging times, public art has a vital role to play in helping communities connect, heal and grow.
"Public art initiatives can be transformative for a community, particularly if that community collaborates in the creation of the art and the artwork represents core community values," state Darden Professor Luca Cian and his co-researchers in "Collaborative Art: A Transformational Force Within Communities," published in the Journal of the Association for Consumer Research.
Valuable and Inexpensive
In particular, public art — sculptures, murals, installations and street art campaigns — made within and by disadvantaged communities can generate a big social return for only a modest financial investment. Public art builds community pride and civic engagement, which reduces vandalism and crime.
Mural walls and art walks can turn a locality into a destination — a place for a stroll, a selfie, a coffee — and boost economic activity. Such art is valuable because it is "accessible to everyone in a community and can be experienced without the barriers of cost and class," Cian and his co-authors write. And because social media makes it so easy to take and share pictures, the positive buzz for a piece of public art can spread worldwide.
The 100 Gates Project, which started on Manhattan's Lower East Side, brought together business owners and artists to create original art: After hours, roll-down metal security walls also served as sanctioned street art murals, transforming the streets of New York into open-air galleries at night and deterring illegal graffiti.
Now More Than Ever
In fact, public art is perhaps necessary today as communities grapple with dramatic physical and social change. As long as COVID-19 remains a threat, outdoor spaces are the safest form of "art gallery" in which the public can gather and mingle.
As climate change makes extreme weather events (fires, floods, drought) more common, public art can bring beauty and healing to spaces that are damaged, awaiting demolition or are being used in new ways. After Hurricane Harvey, for example, Houston artists transformed flood-damaged and abandoned spaces across the city with murals and installations. In the "Ripple in Cherryhurst Project," artists Dean Ruck and Dan Havel created a "deluged" bungalow swirling with artistic cutaways and patterns that resembled rippling water.
Also in the relationship between public art and climate change, some studies have shown that attention to aesthetics and design can reduce overconsumption and spur consumers to make more responsible choices. Other research has shown that design can encourage prosocial behavior. In essence, when it comes to planet and societal health, public art may be both prevention and cure.
"The propensity to create art is a great trait of human beings, especially in response to worry or anxiety," Cian says. "It's a way we express complex emotions that are otherwise difficult to articulate." Pieces like the "Free Speech Monument," an outdoor chalkboard wall in Charlottesville, Virginia, offers the opportunity for community members to give voice to social issues and debate. And public art can help communities reaffirm their humanity following a tragedy, as occurred with the George Floyd murals and memorials that sprang up across the U.S. in summer 2020.
A Gap and an Answer
Although the value of public art is well-recognized and there's widespread demand for public art projects, Cian and his co-authors identified a gap: Few practical models exist to help community groups maximize the social value of public art. So Cian's research group — composed of 11 contributors from academia and community activism — dove in. They each researched different public art installations and shared insights to develop a model that others could apply. The result: a five-part framework for helping groups create public art projects that build pride and create lasting value.
"We wanted to provide a reference for nonprofit groups in communities, and we wanted to help spur further research on the long-term value of these [public art] projects," Cian says.
The goal, according to the group, is to develop public art that has common meaning, that shapes the "visual aesthetic" of an area and that provides "enduring evidence that a community has the power to transform itself."
A 5-Part Framework
Stage 1: Identify the need.
The need for positive change may become apparent suddenly or gradually, and it may be motivated by natural disaster, societal or political upheaval, or a community's educational and economic needs.  
Listen to community stakeholders.

Be open to diverse, unexpected ideas.

Determine: What space could be used? What message is needed? What are the goals?
Stage 2: Crowdsource ideas.
Work to develop a shared vision and plan. Making the process community-wide promotes a sense of ownership, belonging and responsibility in members of the community.
Hold forums with community stakeholders.

Build dialogue among groups that may not normally talk or might sometimes be adversarial (e.g. business groups and activists).

Share experiences: Personal stories — telling and hearing them — promote a sense of empathy, which spurs engagement.
Stage 3: Create together.
Collaborative art creation not only beautifies shared spaces, it calls for human interaction, making it a kind of social sculpture that also builds relationships. Engagement can develop as the art develops.
Promote stakeholder participation so people work communally as the art takes shape.

Balance local needs and shared traditions with individuals' personalized elements.

Incorporate aesthetics, social activism and community development into the creation.
Stage 4: Celebrate together.
The complete product can be a symbol of the power of community organizing and, more specifically, of what the community says about itself to the rest of the world. On the individual level, it can serve as a behavioral nudge to appreciate and preserve the community.
Acknowledge the common purpose and effort.

Celebrate the inclusivity and identity the community shares, as well as a sign of the potential of what it can collectively achieve.

Consider the project's potential to become a local ritual that continues to cultivate relationships.
Stage 5: Spread the word.
A community's success in collective art-making can become a model for itself and others and serve as a reminder of its ability to work together, as well as its shared history, values and goals.
Amplify the core values and message.

Publicize the art.

Identify a wide range of positive results and study long-term social, economic and behavior outcomes.
The benefits of collective art-making can extend to economic, psychological and social outcomes and can serve as proof of the community's ability to work together — and a reminder of its collective identity, shared history, values and goals.
Luca Cian co-authored "Collaborative Art: A Transformational Force Within Communities," which appeared in the Journal of the Association for Consumer Research, with Melissa G. Bublitz of the University of Wisconsin Oshkosh College of Business, Tracy Rank-Christman of the University of Wisconsin-Milwaukee Sheldon B. Lubar School of Business, Xavier Cortada of the University of MIami, Adriana Madzharov of the Stevens Institute of Technology School of Business, Vanessa M. Patrick of the University of Houston Bauer College of Business, Laura A. Peracchio of the University of Wiscosin-Milwaukee Sheldon B. Lubar School of Business, Maura L. Scott of Florida State University, Aparna Sundar of the University of Oregon Lundquist College of Business, Ngoc (Rita) To of Tarleton State University, and Claudia Townsend of Miami Business School.
More from
Business, Ethics & Society