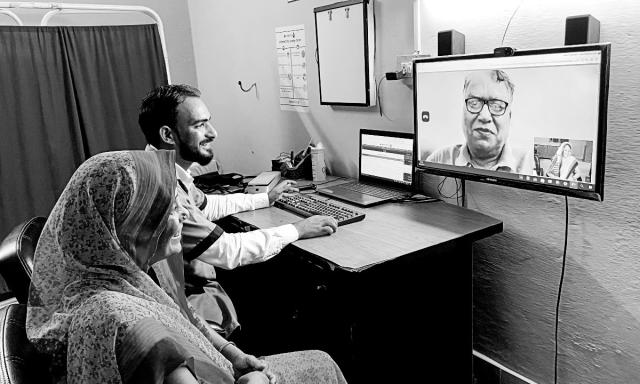 SAMRIDH: Using Blended Finance Toward Quality Health Care in India
THE SOCIAL CHALLENGE
Access to Quality Health Care
In India, public spending in the health sector has been historically low, with the government contributing approximately 1.8 percent of the GDP toward public health care,1  as opposed to the global average of about 10 percent.2  As a result, the country faces a long-standing challenge of weak health systems with a persistent shortage of skilled workforce and infrastructure. Vulnerable populations, including low-income and marginalized communities, are dependent on the overburdened public health care facilities, unaffordable private sector or unskilled providers — leading to poor health outcomes and high out-of-pocket expenditure. Not only do these gaps hinder progress toward India's health goals, but they also have a ripple effect on achieving other of the United Nations' sustainable development goals.
These challenges have been exacerbated during the COVID-19 pandemic. Through mid-August 2022, India has reported over 44 million cases and more than 500,000 deaths. At times, the daily new cases went as high as 400,000, pushing health systems to the brink. While the hospitals, clinics and diagnostic laboratories faced the challenge of catering to an increased number of patients, the supply chain and manufacturers needed to quickly ramp up production and supplies. The country had to resort to prolonged lockdowns to augment capacity and bridge the demand-supply gap.
Fortunately, both government and the private sector acted constructively to address these gaps. However, to improve access to affordable and quality health care for the vulnerable, it is estimated that India will need additional investments of $245 billion by 2034, which is significantly higher than current spend levels. Even with major changes, such as the adoption of new technologies and a focus on prevention and wellness, the funding requirement is estimated at $156 billion.3
While the country has a robust innovation ecosystem with over 7,400 registered startups in the health-tech domain,4  multiple challenges limit their ability to scale up, including lack of capital, market access, regulatory roadblocks and market inefficiencies. Since 2010, over 110 private equity and venture capital investors have invested in the health care delivery space in India, with a transaction value of more than $1.2 billion.5  However, these investments have largely gone into tier-1 markets and not necessarily toward improving accessibility and affordability for the vulnerable masses.
THE PARTNERSHIP
Sustainable Access to Market and Resources for Innovative Delivery of Healthcare (SAMRIDH) Blended Finance Facility
THE PARTNERS
Philanthropic Donors: Contributors to the grant pool of the facility

United States Agency for International Development

The Rockefeller Foundation

Morpho Foundation

Ford Foundation

IndusInd Foundation

Fund Hosting Entity: Host and operator of the grant funds received by SAMRIDH

Indian Institute of Technology, Delhi

Debt Financing Partners: Contributors for the debt pool; the committed funds remain with the institutions, which lend to health enterprises as per their respective rules and procedures

Axis Bank

IndusInd Bank

HDFC Bank

Caspian Debt

Technical Support Unit: Manager of end-to-end operations of SAMRIDH, including identifying of high-impact health solutions, mobilizing investments, monitoring and evaluation, and disseminating project impact; this is completely supported by USAID/India
Technical Partners: An expanding mix of organizations including the government, incubators and industry associations to guide the project with diverse expertise and networks

Atal Innovation Mission, NITI Aayog

National Health Authority

Principal Scientific Advisor to the Government of India

Andhra Pradesh MedTech Zone

Convergence

NATHEALTH
THE IDEA AND THE ACTION
SAMRIDH Healthcare Blended Finance Facility, through blended finance models, leverages philanthropic funding to mitigate barriers for private investment and drive greater commercial investments toward health system strengthening.
With the onset of the pandemic, the United States Agency for International Development (USAID)/India established SAMRIDH with the immediate goal to bridge the supply-side gaps in emergency health services and accelerate India's response to COVID-19. In the long-term, it aims to strengthen comprehensive health services to improve access to affordable and quality health care for the most socioeconomically vulnerable 40 percent of the population (approximately 540 million) and build resilient health systems to effectively respond to future health emergencies.
The initiative has identified the following key objectives to achieve by September 2023:  
Identify and support sustainable, innovative business models by providing access to affordable capital. The initial target of 30 enterprises has been achieved within two years of the inception and now the team is building a sustainability framework to continue supporting the scale-up of inclusive health care solutions.

Mobilize the

grant pool and debt commitments to set up a blended finance facility to support health care entrepreneurs and innovations. The initial target of $100 million has already been surpassed by close to three times.

Reduce the out-of-pocket expenditure for poor and underserved communities.

Encourage participation of women in entrepreneurship to solve health challenges.

Drive Environment, Social and Governance (ESG) principles through investment decisions.
SAMRIDH follows a systematic evaluation approach to identify high-impact health solutions and uses blended finance models to mobilize grants and facilitate debt funding support to health care businesses. In addition, it has built networks to provide proven health solutions, market access, business advisory services and technical assistance to advance their expansion and sustainability plans. To implement this multipronged approach, SAMRIDH has catalyzed diverse partnerships with over 100 ecosystem players from the government, financial institutions, philanthropies, incubators, academia and industry associations.
It has a robust governance structure in form of an Advisory Committee, which provides oversight and guides the efficient disbursement of funding, ensuring the funded solutions are sustainable in the medium and long term. The Advisory Committee is constituted of senior bureaucrats, experts from Atal Innovation Mission, NITI Aayog, Principal Scientific Advisor Office of Government of India (GoI), IIT-Delhi, Rockefeller Foundation and IndusInd Bank.
THE IMPACT
Two years into the journey, SAMRIDH has:
Mobilized close to $300 million in grant and debt funding from philanthropies, leading banks and non-banking financial companies to support scaling up of high-impact health solutions.

Improved access to affordable health care services for over 25 million people across 28 states, with only $12 million grant funding. This has been achieved through:

Leveraging the $12 million grant funding to raise $100 million in commercial investments, demonstrating that blended finance can play a role in filling funding gaps for sustainable development

Capacity building of over 17,000 health care professionals — doctors, nurses, community health workers and paramedics

Deployment of high-impact health solutions in over 1,000 medical facilities, enabling them to provide comprehensive quality health care at an affordable cost, with an improved scale of operations and effective use of time and resources

Directly serving over 5.2 million vulnerable individuals with improved health care, diagnostic services, drug availability and vaccination
SAMRIDH is paving the way to create a conducive ecosystem for scaling-up market-based health care solutions targeted to improve health care services for vulnerable communities. Through initiatives addressing issues including the capacity and training of the workforce, infrastructure, diagnostic products and services, medical devices, vaccine supply and delivery systems, SAMRIDH has made significant advancements toward strengthening the access, quality and responsiveness  of  health care deliver yin the country.
THE INSIGHT
The world has a financing gap estimated at trillions of dollars annually to achieve the United Nations' sustainable development goals (SDGs). The challenge is that conventional private investors consider addressing these needs either too risky or offering poor returns, and the COVID-19 pandemic has only made the situation more pressing, particularly in health care. One solution is "blended finance," defined as structures that combine public development finance by multilateral agencies and grants by philanthropic organizations to attract more private capital toward deals targeting the SDG goal No. 3 (good health and well-being) in developing countries.
India is a country with many unmet health care capacity and infrastructure needs, and the pandemic further raised the urgency of these needs. This is a high-impact sector in which the SAMRIDH initiative can help mobilize additional finance; this tri-sector collaboration uses innovative financial tools. One such example is its use of blended finance to combine development funding from public and philanthropic entities that have concessional or below-market terms (such as grants or providing loan guarantees with project risk absorbed) and private capital that earns market-rate returns (at lower risk) to deliver both financial and social outcomes and make projects viable.
Though blended finance can only be part of addressing the financing gap puzzle, initiatives such that SAMRIDH are building good momentum to improve access to affordable and quality health care services for low-income and vulnerable populations.
The Darden School of Business' Institute for Business in Society partners with Concordia and the U.S. Department of State Secretary's Office of Global Partnerships to present the annual P3 Impact Award, which recognizes leading public-private partnerships that improve communities around the world. This year's award will be presented at the Concordia Annual Summit the week of 19 September 2022. The five finalists will be highlighted on Darden Ideas to Action on Fridays leading up to the event.
This article was developed with the support of Darden's Institute for Business in Society, at which Maggie Morse is director of programs.
1Bharath Kancharla, "Data: What Is the 'Public Health Expenditure' in India as a Share of GDP?" Factly, May 2021, https://factly.in/data-what-is-the-public-health-expenditure-in-india-as-a-share-of-gdp/.
2NATHEALTH and PwC, Financing and Funding Indian Healthcare: Navigating the Turbulent Tide, 2018, https://www.pwc.in/assets/pdfs/publications/2018/financing-and-funding-indian-healthcare-navigating-the-turbulent-tide.pdf.
3NATHEALTH and PwC, Funding Indian Healthcare: Catalysing the Next Wave of Growth, 2017, https://www.pwc.in/assets/pdfs/publications/2017/funding-indian-healthcare-catalysing-the-next-wave-of-growth.pdf.
4Tracxn, HealthTech Startups in India, 2022, https://tracxn.com/explore/HealthTech-Startups-in-India.
5NATHEALTH and PwC, Funding Indian Healthcare: Catalysing the Next Wave of Growth.
More from
Business, Ethics & Society