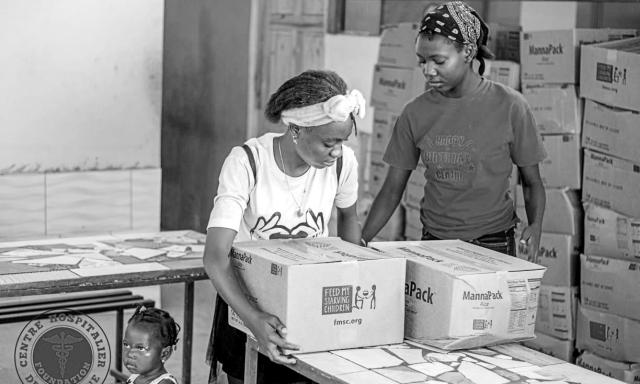 The Haiti Humanitarian Air Bridge: Facilitating Aid
The Social Challenge
Delivery of Aid for Health Crises
Nongovernmental organizations (NGOs) around the world rely on air transportation to deliver material assistance to communities experiencing emergencies. Air transportation is often the most volatile and costly component of the supply chain — particularly when factoring in the need for protracted delivery of aid by air in complex emergencies requiring international assistance.
In October 2022, the already dire humanitarian situation in Haiti worsened dramatically following a new cholera outbreak. The incidence of cholera in the country quickly spiked, health care systems became overwhelmed, and agencies struggled to deliver humanitarian aid to the island because of transport costs and escalating gang violence.
On top of the practical challenges of delivering aid in the country, the only viable option to get aid into Haiti — air transport — was financially out of reach for most NGOs.
The Partnership
The Haiti Humanitarian Air Bridge (Haiti HAB)
The Partners
Airlink

American Airlines

Amerijet

CARE

Conrad N. Hilton Foundation

Food for the Poor

GlobalMedic

Health Equity International

IMA World Health

Konbit Sante

Partners In Health

The Dalton Foundation

SEKO Logistics

United States Agency for International Development

's

Bureau for Humanitarian Assistance (USAID/BHA)

The UPS Foundation

The World Health Organization
The Idea and the Action
To address this growing humanitarian crisis, in which more than 50,000 cases of cholera have been recorded,1 Airlink joined together with its aviation and logistics partners and USAID's Bureau for Humanitarian Assistance (USAID/BHA), launching a private-sector-powered aid bridge that helped overcome supply chain disruptions, deliver sustained assistance to Haiti and provide resources to local communities.
Through private sector donations from aviation and logistics companies and by leveraging economies of scale through multi-agency charter flights, the air bridge program provided the aid community with fast, free transportation access.
The partnership ultimately:
Reduced duplication of efforts in transportation by providing visibility of incoming aid

Reduced competition among NGOs for limited resources in a highly competitive airfreight market

Streamlined logistics services for responding agencies

Saved NGOs funds to be used elsewhere in their relief programs or enabled them to deliver programs that, without transportation, would not have happened at all
The Haiti HAB is an evolution of Airlink's existing response model, which seeks to leverage the power and speed of aviation to move the right aid to the right place at the right time. In this innovative approach to humanitarian logistics, Airlink acted as a force multiplier for regionally earmarked donor funding by bringing the private sector together around this humanitarian response, nearly doubling the purchasing power of donor funding in an otherwise underfunded emergency.
The Impact
Over the course of five months, the Haiti HAB program helped bridge the gap for many organizations that had stocks of essential cholera treatment and prevention supplies — but that faced challenges in delivering assistance to the country due to lack of budget and/or access to timely airlift.
The Haiti HAB program helped deliver 232 tons of aid across 29 shipments through five charter flights. These shipments of donated relief aid totaled $1.18 million in commercial value.

The program helped eight aid agencies and their in-country partners reach affected populations with critical aid supplies.

One-hundred percent of NGOs assisted would otherwise have been unable to deliver aid supplies at the scale required for a successful response.
The operation of these flights to Haiti saved the aid community more than $1.24 million in transportation and logistics costs. In-kind flights, trucking and storage secured by Airlink from private sector partners, as well as the economies of scale achieved through charter flights, enabled USAID/BHA funding to go twice as far when compared to purchasing the same logistics solutions commercially.
More than 137,000 people gained access to water, sanitation, and hygiene services and supplies, including point-of-use water filtration devices and community-wide filtration  systems.

One shipment of solar-powered water filtration systems is now providing clean water to Les Cayemites, an archipelago in Grand'Anse, Haiti, that previously had no access to reliable clean water.

A shipment of Aquatabs was distributed to six health facilities and one program addressing malnutrition in northern Haiti, creating a means for these facilities to provide care to their patients using clean water and effectively stemming the spread of cholera around Cap Haitien.
More than 44,000 people received treatment for cholera through IV fluids, testing, fortified meals and medications. The cholera mortality rate is less than 1 percent when patients receive adequate rehydration and care.

Eleven shipments were sent to 17 partners in health-supported facilities, which in turn treated more than 8,000 people with confirmed cases of cholera across the Central Plateau and Lower-Artibonite, Haiti.
This program is ongoing due to the tremendous need of Haitian communities, and in May 2023, in recognition of the impact that this program has made, USAID/BHA granted additional funding to continue this initiative for additional flights in summer 2023. Upcoming flights will support cholera recovery and deliver ongoing aid even as the escalating gang violence continues to challenge NGO aid operations in Haiti.
Due to the success of this program, Airlink is currently working to replicate this model — providing free-to-NGO cargo flights on a planned basis for specific emergencies — in response to South Pacific cyclone season, the complex crisis in Afghanistan, and other underfunded and hard-to-reach emergencies around the world.
Faculty Insight
Humanitarian logistics, as we know it today, refers to the organizing, warehousing, and delivery of aid, personnel, and supplies to regions of the world struck by natural disasters, large-scale violence, and other complex emergencies. Over the past few years, we have seen many of these disasters unfold on the world stage, and people have lost all access to basic food and water supplies, are fearful for their safety, and are completely cut off from the rest of the world.
When large-scale violence occurs in conflict-prone regions, the main objective is to create a safe space for the people in the region, usually by evacuating them to a nearby region or a place that is familiar but conflict-free. Humanitarian corridors are set up with cooperation from several international aid and development organizations, local NGOs and governance institutions, as well as through negotiations with the parties in conflict. In case of natural disasters and medical emergencies, the focus is on rescue, treatment, and rebuilding the community at the place that is their home. This is a long-term process in which gaining access to the affected area is the most challenging problem. When a country is completely cut off, all basic infrastructure and services within the country are down, there is an outbreak of disease, and the government is run over, how do you reach them?
In such circumstances, we turn to aid and development organizations, NGOs and private companies, and other governments for help. Two resources are key to this effort.
The first is supplies, both in material and personnel, and the funds to secure them. The second is the capability to set these up at each stage of the supply chain. Here, different from regular commercial operations, the objective is not to make the highest profit. Rather it is to minimize response time, to get there as fast and with as much as possible.
Yet there is a cost involved at each stage of the supply chain, from procurement and storage of supplies to transporting, distributing and administering them to those in need. Each dollar saved in these activities is also a dollar that can be used toward saving a life on the ground. To do this, we need to leverage capabilities across a broad set of organizations. These include NGOs and medical personnel who can identify and treat the most vulnerable people on the ground; public health organizations, manufacturers and suppliers who have the inventory of the necessary supplies; and logistics companies that have the resources to transport the supplies and personnel to the area of need. When these come together in a timely manner, we can be of most help.
The Haiti HAB program is a perfect example of such cooperation. The cholera outbreak in Haiti, coming on the heels of the COVID-19 pandemic, at a time when the region was already in conflict and all regular access ports are shut down, could have wiped out a major part of the population on the island. It was critical to get aid in as quickly as possible. Each of the 16 partners in the program contributed their resources and capabilities at the stage of the supply chain at which they were best positioned to do so, and the impact will be seen on the ground for a long time to come.
1World Health Organization. (6 July 2023). Multi-Country Outbreak of Cholera, External Situation Report No. 4. https://reliefweb.int/report/malawi/multi-country-outbreak-cholera-external-situation-report-4-published-6-june-2023
The Darden School of Business' Institute for Business in Society partners with Concordia and the U.S. Department of State Secretary's Office of Global Partnerships to present the annual P3 Impact Award, which recognizes leading public-private partnerships that improve communities around the world. This year's award will be presented at the Concordia Annual Summit the week of 18 September 2023. The five finalists will be highlighted on Darden Ideas to Action on Fridays leading up to the event.
This article was developed with the support of Darden's Institute for Business in Society, at which Maggie Morse is director of programs.
More from
Business, Ethics & Society