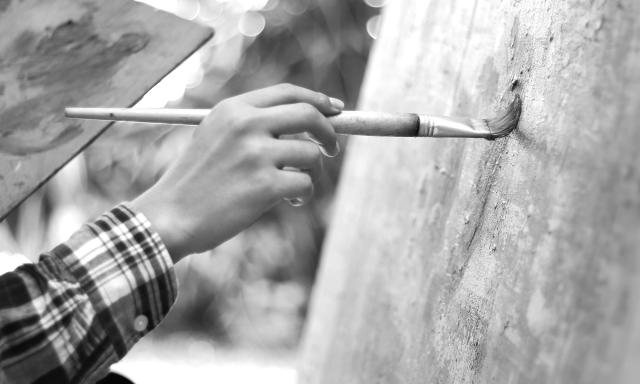 Deliberate Creativity for Innovation, Part 2: Person
Innovation is essential for a business to survive and thrive, and behind all innovation is creativity. Creativity is not something that people have or don't have; rather, it is a skill that anyone can perfect and grow.
Perhaps the most useful model of creativity to business leaders is the Creative Change Model developed by the International Center for Studies in Creativity at SUNY Buffalo State College.1  This model organizes the four strands of creativity compiled in Med Rhodes' landmark 1961 work to show how they interact to cause creative change.2
According to the model, creative change is driven by adoption of a creative product, and this product comes from the interaction of the person, process and environment.
In Part 1 of this series, we covered the importance of improving creativity in the problem-solving process. Now we look at another essential element: the person. 
Person
The person is the conduit through which the creative process happens, within an environment, to develop a creative product. Success is determined by the person engaging in the process.
Improving Creativity of a Person
In 1972, Sid Parnes and Ruth Noller published the results of a comprehensive two-year study, which was the first to demonstrate that creativity is a skill that can be learned and enhanced.3  Creativity is not just the ability to invent the lightbulb, but it is a skill that is involved whenever a person improves a solution. Several affective and tactical skills comprise the complex skill of creativity.
Disposition to the challenge to be solved
It is important how a person is oriented toward the problem they are solving. When they view the problem as work, it limits their creative ability. If the person instead orients themselves to see the challenge as a way to play, it opens the mind to be able to see all the possibilities and to use the process to its full extent.4  In order to do this, it is simply a matter of reframing one's disposition toward the situation or challenge as entertaining or desirable.
Self-awareness
Beyond the scope of a single problem, people find it easier to be creative when their minds are clear and they have a general level of self-awareness. The people know themselves, the greater their ability to become aware of new ideas that their brains are constantly generating.
Julia Cameron, a famous creativity consultant for the last few decades, has two exercises in her book The Artist's Way that enable people to develop their own creative identities.5
Morning pages: Cameron insists that this activity is the first step toward developing a person's creative abilities, and it involves stream-of-consciousness writing for 30 minutes every day for a given period.
Artist's date: Individuals takes themselves out "on a date," alone, to do something fun for no reason other than to do something they are drawn to. While on the date, they can observe their own emotions, reactions and engagement with the activity, the same as they would if they were on a date with someone else. By incorporating these activities, a person can start to unblock the censorious aspects of our minds that hinder the divergent thinking aspects of creativity.
More knowledge brought into the process
Albert Einstein always described himself as "passionately curious." This habit enabled him and many other creative individuals to draw from many sources of knowledge to improve the creative process, especially in the important step of gathering data. There are many practices that achieve this, and we see them all performed by Leonardo da Vinci:6
Observe and document everything: Leonardo da Vinci kept over 7,000 pages of observations when paper was not a cheap commodity.
Consume diverse material and be relentlessly curious: If a person is solving a problem in aeronautics, they should not just consume information about that. Pulling from fashion magazines, fluid mechanics, operations, data science, and even the way that beavers build dams might enable you to find more creative solutions using the creative process. Leonardo's information came from studying things like the way water flowed as it was poured into a pool, the mechanics of a woodpecker's tongue and the way the people walked on ice in the Flanders region in Belgium.
Familiarity with the process
Those who have been trained to use the process and practice it are much better at it than those who are using it for the first time.7  Therefore, anyone who wants to increase creativity should be making a point to implement this process on a regular basis. Here are some practices that focus on pieces of the Creative Problem Solving (CPS) process8  that can be incorporated into daily life, as recommended by creativity expert Chic Thompson:9
Always look for a second right answer: This is a simple way to practice divergent thinking.
Reframe problems as questions: Practicing this rephrasing of problems on a regular basis will enable the practitioner to think this way effortlessly as they attempt to solve a problem that matters to them.
Ask "why" five times: This is a famous technique in the realm of root cause analysis. In everyday life, this practice builds curiosity. By asking "why" multiple times, one can get to the underlying challenge, not a symptom of it, and therefore the resulting solution will have much greater impact.
The preceding excerpts Harnessing Deliberate Creativity (Darden Business Publishing), prepared by Alex Zorychta (MBA '21) and Darden Professor Luca Cian 
1Gerard J. Puccio, Marie Mance, Laura Barbero Switalski and Paul D. Reali, Creativity Rising: Creative Thinking and Creative Problem Solving in the 21st Century (Buffalo, NY: ICSC Press, 2012).
2Mel Rhodes, "An Analysis of Creativity," Phi Delta Kappan 42, No. 7 (April 1961): 305–310.
3Sidney J. Parnes and Ruth B. Noller, "Applied Creativity: The Creative Studies Project," Journal of Creative Behavior 6, No. 3 (September 1972): 154–186.
4Rene T. Proyer, Nancy Tandler and Kay Brauer, "Playfulness and Creativity: A Selective Review," in Creativity and Humor, ed. Sarah R. Luria, John Baer and James C. Kaufman (Cambridge, MA: Academic Press, 2019), 43–60.
5Julia Cameron, The Artist's Way: A Spiritual Path to Higher Creativity (New York: TarcherPerigee, 2016).
6Walter Isaacson, Leonardo da Vinci (New York: Simon & Schuster, 2017).
7Roger L. Firestien, "Effects of Creative Problem Solving Training on Communication Behaviors in Small Groups," in Creativity and Innovation: Towards a European Network, ed. Patrick Colemont, Per Groholt, Tudor Rickards and Hans Smeekes (Boston, Kluwer Academic Publishers, 1988), 251–256.
8What Is CPS?" Creative Education Foundation, https://www.creativeeducationfoundation.org/what-is-cps/.
9Chic Thompson, What a Great Idea!: Unlocking Your Creativity in Business and in Life (New York, Sterling Publishing Co., 2007).
More from
Entrepreneurship & Innovation