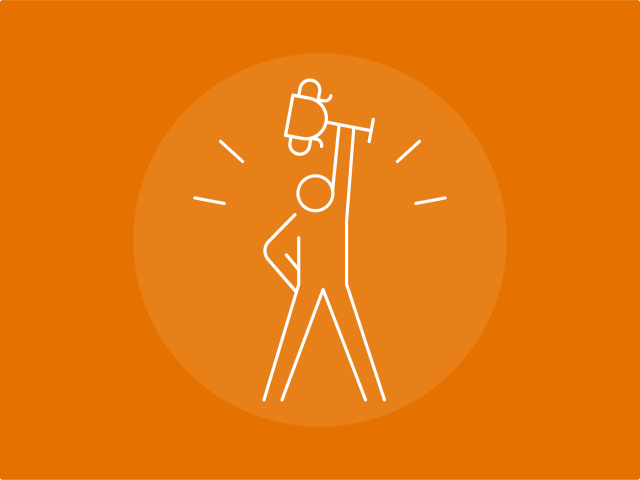 4 Steps to Building Your Brand: How Student-Athletes Can Win With NIL
According to a FiveThirtyEight analysis1  conducted before student-athletes (SAs) were allowed to earn money through their name, image and likeness (NIL), University of Connecticut women's basketball then-freshman phenom Paige Bueckers could have earned $670,783 per year from endorsement posts shared with her huge social media following. And that's just the value of social media influencer marketing, which is the tip of the iceberg for athletes presented with the opportunity to benefit from the value of their NILs.
In April 2020, the National Collegiate Athletic Association (NCAA) Board of Governors decided to support rule changes to allow SAs the right to benefit monetarily from the value of their name, image and likeness.
So now that the NIL era is here, how will the business world assess how much it's willing to pay each individual SA? The answer is by evaluating each player's brand as an athlete. This, of course, begs the question: What is a brand?
CONTROLING YOUR OWN DESTINY
In the case of individuals like SAs, an "athlete brand" really amounts to their reputations as athletes — on and off the field. With increased opportunities, the need to help SAs manage their brands in this new landscape is real.
Soon after the NCAA rule change, Ted White, then-deputy director of the University of Virginia athletics department, was approached by companies, individuals and agencies trying to cash in on the moment by offering to help UVA SAs. He asked important questions.
"Are our SAs better off trusting their brands to agencies and external marketing organizations?"

"What is the best way to help SAs build their brands to create maximum value?"

"How can we protect our SAs from unethical and opportunistic people?"
His next question was perhaps the most telling. He wondered if it would be possible to educate SAs so that they could learn how to think about strategic brand building, enabling them to control their own destiny:
"Would it be possible for us to develop a curriculum that would help our SAs lead agencies, agents and others in developing the brand they want rather than being told by agencies what to do?"
YOUR OWN BRAND: OFFENSE AND DEFENSE
The answer: Absolutely! Anyone can learn to take control of their own brand.
A person can "play offense" by designing, activating and leveraging their own brand in a way that aligns with who they are and their aspirations.
For example, White noted many former UVA SAs have leveraged the strength of their brands not only to earn better professional playing opportunities but also to make a significant impact outside of playing their sport. Indiana Pacers star Malcolm Brogdon won the 2020 J. Walter Kennedy Citizenship Award for his commitment to education, gender and health equality, as well as his support for criminal justice and voting reform. He also established the Brogdon Family Foundation, which supports Hoops4Humanity, an organization that seeks to create access to clean water and education for children and families in Africa, and the JHA Education Project, which focuses on literacy, mentoring and infrastructure programs for students in underserved communities in the United States.2
Just as importantly, SAs can "play defense" and learn to protect themselves from unscrupulous people who might want to take advantage.
New Orleans Pelicans phenom Zion Williamson spent nearly two years in an extended court battle with a marketing agency he signed with as a freshman at Duke University.3  The agency sued Williamson for $100 million in damages, arguing breach of contract because Williamson decided to terminate his agreement with the firm when he left Duke to head to the National Basketball Association (NBA). Unfortunately, it was a contract Williamson should never have signed and likely wouldn't have if he had been better equipped to manage his brand.
Teaching offense and defense by breaking down the process of designing, building and monetizing a brand can help people — in these examples, SAs — independently design their own brand plans. Let's break down the process.
HOW TO BUILD THE BRAND
There are two ways to build your brand.
One way is to hire a firm that will design your brand and tell you what to do, where to go, what to say and may even post on social media for you. This can be enticing because you don't have to invest much time or effort.
The challenge is that nobody will ever care more about your brand than you will. Even company executives want to "own" the design and activation of their own brands. They don't want to leave it up to others. The worry with outsourcing branding is that the brand design won't be "right" — it won't fit who they are or want to be. Executives also want the knowledge that goes with learning how to design their own brands, knowing that it can be useful for their careers.
And this represents the second way to build your brand: You learn how to design, activate and monetize it yourself. You become proficient enough to lead others as they help you develop your brand. You have enough knowledge to engage in meaningful conversations with agents and external agencies. And you learn to ask questions to ensure you aren't being taken advantage of.
Learning how to build and manage your own brand will be beneficial not only in the short term; the knowledge will continue to help over the decades as your brand morphs, changes and adapts to new life stages and goals.
Championships are built on a great process. There are four primary steps to the process of successful brand-building for SAs:
Identify your vision, goals and resources.

Design your brand.

Activate your brand.

Monetize your brand.
IDENTIFY YOUR VISION, GOALS AND RESOURCES
Notice that this process doesn't begin by designing your brand. This is important. Brand design comes after you identify your goals and aspirations, because you want your brand to be anchored to the vision you have for your life. Your brand is a reflection of who you are, who you want to be and where you want to go. So in the case of student-athletes, they must first think about the role of sport in their lives and the resources that will help them pursue goals.
DESIGN YOUR BRAND
Once you understand your vision, it's time to walk through a process to create your brand. Based on your vision and goals, you'll learn how to identify your "target audience." Student-athletes may consider if that means college coaches, fans, professional coaches, peers, scouts, future employers, sponsors or somebody else. What do you want to stand for? What value do you hope to create for your target?
ACTIVATE YOUR BRAND
The bridge from a desired brand to a realized brand is your activation plan. You must learn how to activate your brand to achieve your desired brand image. What will you do to align your actions with your brand?
MONETIZE YOUR BRAND
After building your activation plan, it is time to think about monetization. Notice something important: Most of brand management is focused on brand development and activation rather than monetization.
As Thomas Rogers, former UVA men's basketball player, said during an interview, "By not focusing on monetization, you put yourself in the best position to maximize monetization." Failing to realize this rule of thumb is a mistake that some agents make. They start talking to SAs on day one about how they can make money off their brands.
Your brand isn't what people think or believe about a pair of shoes or a tube of toothpaste. It's what they think and believe about you. Don't jump into tactics before getting your strategy set.
The preceding is an edited excerpt of Chapter 1 from the book Athlete Brands: How to Benefit From Your Name, Image & Likeness by Darden Professor Kimberly Whitler and Jay Hodgkins, now available for pre-order on Amazon and through Darden Business Publishing.
1Josh Planos, "How Much Money Could Student-Athletes Make as Social Media Influencers?" FiveThirtyEight, 15 May 2020, https://fivethirtyeight.com/features/how-much-money-could-student-athletesmake-as-social-media-influencers/.
2"Our Mission," Brogdon Family Foundation, accessed 16 August 2021, https://www.brogdonfamilyfoundation.org/.
3Lauren Ohnesorge, "Judge Sides with Former Duke Phenom Zion Williamson in Lawsuit Against Marketing Agency," Triangle Business Journal, 20 January 2021, https://www.bizjournals.com/triangle/news/2021/01/20/judge-ruling-zion-williamson-lawsuit-prime-sports.html.
More from
Marketing & Sales