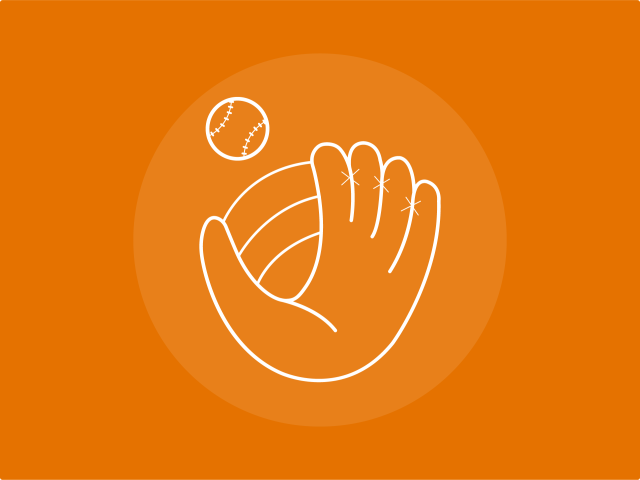 Athlete Brands: UVA Baseball Star Learns to Pitch a Perfect Game on Social Media
The Big Idea
College athletes are competing on an entirely new playing field now that they can profit from their name, image and likeness (NIL). NIL licensing can be a great opportunity for student athletes, but only if they know how to take advantage of it. How will the business world assess how much it is willing to pay each individual? The answer is by evaluating each player's brand as an athlete.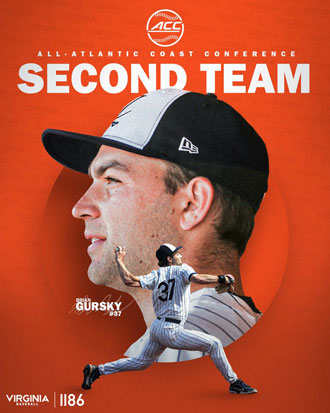 An "athlete brand" is really an athlete's reputation — on and off the field. It's always been a significant part of the equation for how future employers determine whether to draft a player, how much they are willing to pay a player, and even career opportunities post-playing days, in or outside the world of sports. It has now become more salient as student athletes see the connection between brand-building and income generation. 
Despite the increased opportunities, the new NIL landscape also increases the risks for student athletes, and many would benefit from help managing their own brands.
The Scenario
Pitcher Brian Gursky had a successful career on the mound in four seasons with the University of Southern California Trojans men's baseball team. But thanks to the NCAA granting student athletes a fifth season to compete due to COVID-19, he transferred to the University of Virginia with big plans to continue improving and become a breakout star. The UVA Cavaliers were fresh off a surprise appearance at the College World Series in Omaha, and while the team still had a star-studded offensive lineup, it had lost some of its best arms from the previous season.
Brian Gursky twirls a 1️⃣-2️⃣-3️⃣ first inning, strikes out the final batter of the frame.

No score after 1. #GoHoos pic.twitter.com/jmzpyadkWK

— Virginia Baseball (@UVABaseball) June 4, 2022
The season went well for Gursky, who was the Cavaliers' Saturday starting pitcher, meaning he pitched in all the team's most important conference games, his performance earned him a second-team All-ACC team honor and the UVA baseball team went on to NCAA regionals.
Although Gursky was focused on baseball, he also wanted to strengthen his business skills. To augment his USC Marshall School of Business degree, he applied for an unpaid internship with University of Virginia Darden School of Business Marketing Professor Kimberly Whitler.
During the interview, Whitler challenged Gursky about his public social media posts, asking difficult and probing questions. For example: "Why aren't there any pictures of you playing baseball? Do you like baseball? Do you want to play professionally?" Additionally, Gursky's profiles still showed USC as his school affiliation, and Whitler wanted to know why they hadn't been updated to indicate the move to UVA. She also queried about why he chose, as his primary photo, a picture of more than 10 male friends sitting outside what looked like a fraternity house.
The essence was: "What story are these pictures telling about you, and are they stories that you want to tell? Social media is an advertisement for your professional brand. It is no longer a communication tool between friends. What advertisement — that represents who you are — are you sharing with coaches, scouts, future coaches, potential sponsors and fans?"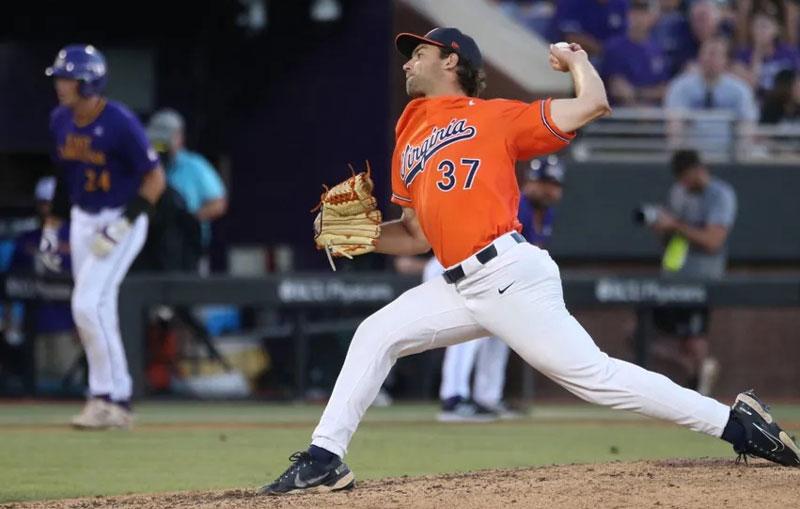 The frank discussion highlighted considerations for an athlete brand: Who was Gursky targeting? What did his images and posts reflect about his brand? Looking at his posts through a different lens helped Gursky realize that he had been focused on an audience of his peers; his social media did not reflect his life as a baseball player or tell his story in a way that would be effective with important stakeholders like pro scouts, coaches, fans, or prospective employers.
In short, Gursky realized he didn't have a clear target, vision or strategy regarding what he wanted out of his social media platforms. While that might be fine for some private individuals, it doesn't work for student athletes looking to leverage their name, image and likeness for career and financial opportunities.
Gursky said Whitler asked questions every student athlete should answer:
If an employer or somebody considering you for an NIL deal looks at your social media, what does it say about your "athlete brand"?

How would they describe you based solely on the images chosen and the content posted?

Is the brand that of someone they would want to draft — or hire — or sponsor?
"Kim's questions changed how I thought about social media," Gursky said. "I immediately understood that it wasn't about what I wanted to communicate to friends, but rather how I represented myself with future employers — whether a pro team, a hiring company or a sponsoring firm."
Strikeout No. 9️⃣ for Brian Gursky gets us out of a bases loaded jam in the 4th and matches a career high.

?: ACCNX | #GoHoos pic.twitter.com/s8lR5wYeMA

— Virginia Baseball (@UVABaseball) May 20, 2022
The Resolution
Whitler introduced Gursky to a simple process brand managers have been using for decades.
Set clear goals and a vision for what you want to achieve.

Design your brand by determining what actions you can take on and off the field to work toward achieving those goals.

Activate your brand by putting the brand design ideas into action on social media, in practice, in class — everywhere!

Finally, with a strong brand, athletes can develop a plan to monetize their name, image and likeness.
"Brian's previous perspective regarding social media is normal," Whitler said. "I've talked with a number of scholar athletes, and most view social media through the 'friend' lens. When we start using social media, few of us are trained to think about which critical stakeholders might read our social media, what we want our public brand to represent, how to create a brand strategy, or how to develop guardrails to maximize the upside but minimize the risk."
"Treating your athlete brand the way a professional marketer would requires training," Whitler further explained. "With the new perspective provided in the book, Brian independently reviewed, analyzed and then updated his social media. He took the initiative to think about his athlete brand and then align his social media plan accordingly. He has an exceptional mind, and so all it took was exposing him to a brand manager's point of view and he was off and running."
Gursky set a goal to play Major League Baseball. That meant his primary target audience needed to consist of scouts and other professional baseball decision-makers — but having a strong brand with teammates and coaches was important, too. He went to align his social media with what he would want those audiences to think about him when they read his posts.
"Within a few hours, I went from underwhelming social media pages that did not promote my brand and image to ones that do, telling my story," Gursky said. He updated his profile photos and became much more intentional about the content he tweeted, retweeted and liked. He began to promote his teammates instead of himself in his posts, making them more likely to also support him in posts and expand his brand reach.
Happy to announce that I will be playing my final year of College baseball at the University of Virginia! @UVABaseball #GoHoos pic.twitter.com/1iYzU8Nt65

— Brian Gursky (@brian_gursky) July 6, 2021
The Lesson
For many, it's hard to think about the long game with social media. It's easy to go with the flow, posting and sharing without any strategy. For high-profile individuals like student athletes, however, that lack of a strategy can unintentionally give teammates, coaches, fans and future employers impressions that harm athlete brands.
Whitler has learned from professionals that as coaches sit and watch high schoolers compete, they are scanning prospects' social media posts. What some people consider communication with friends quickly turns into a type of "advertising" that coaches, scouts, administrators, schools, teams — and yes, sponsors — review to judge if the player is a good fit with the institution's own brand or a sponsor's brand.
In the highly competitive world of athletics, even the smallest edge in reputation can be the difference between landing a coveted NIL deal or not — or, more importantly, getting a shot to play professionally or not.
As Gursky points out, "While only around 25 percent of college athletes get an NIL deal, the importance of improving your brand on social media is not just important for your four years at college — it's important for your forty years after college."
In their new book Athlete Brands: How to Benefit From Your Name, Image & Likeness, Whitler and co-author Jay Hodgkins provide a simple, easy-to-follow process to help student athletes create brands that serve their goals in the new NIL landscape.  
More from
Marketing & Sales