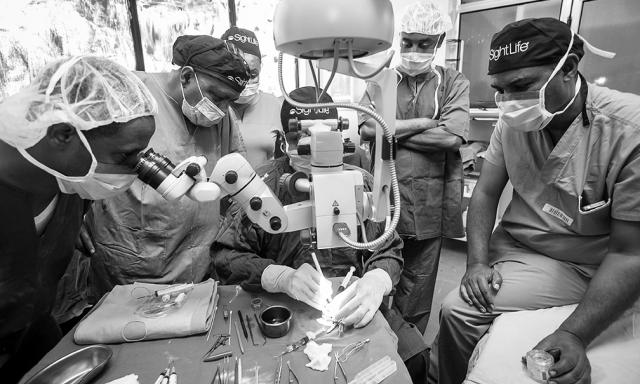 Eye Banking in Ethiopia: A Sustainable Supply
The Social Challenge
Eye Health: Corneal Blindness
More than 3 percent of the global blindness burden is in Ethiopia, and it is estimated that 87–91 percent of blindness and low vision in Ethiopia is avoidable.1
Of avoidable blindness and low vision in Ethiopia, 7.5 percent is attributed to corneal opacities, for which corneal transplant remains the primary sight-restoring procedure.2  Cornea transplants require access to a trusted source of corneal tissue, which must be donated from a recently deceased individual, meet quality standards and be transplanted to a recipient within days of donation. The global demand for corneal tissue far outpaces supply, and lack of affordable tissue in Ethiopia was the largest barrier to corneal care.
With limited government support, minimal public awareness, no functioning structure for banking donated eye tissue in sub-Saharan Africa and a global cornea shortage, Ethiopia was ill-suited to develop the health system in ways that would meet the needs of the millions of corneal blind waiting in darkness.
The Partnership
Eye Bank of Ethiopia Elimination of Corneal Blindness Partnership
The Partners
Ministry of Health, Government of Ethiopia

Himalayan Cataract Project

SightLife

Eye Bank of Ethiopia
The Idea and the Action
Growing supply of high-quality corneal tissue in Ethiopia to overcome the largest barrier — lack of affordable tissue — could not be accomplished without wide-ranging support. Thanks to close collaboration among NGOs and local leaders, it was determined the Eye Bank of Ethiopia, originally founded by Orbis International and the only functioning eye bank in sub-Saharan Africa, could be scaled to meet national demand, prove critical best practices and serve as a model to develop corneal health systems in the region.  
The Impact
As a result of collaboration with the local government, local media, hospitals, surgeons, celebrities, international NGOs and multinational corporations, the Eye Bank of Ethiopia Elimination of Corneal Blindness Partnership is able to meet 100 percent of the current demand for quality certified corneal tissue in Ethiopia. With help from SightLife, a nonprofit global health organization with a mission of eliminating corneal blindness worldwide by 2040, it has procured 3,894 corneas for transplant, while also receiving international quality certification in accordance with Eye Bank Association of America quality standards. The partnership is poised to gain permanent sustainability funding by the Ethiopia Ministry of Health within 18 months and positioned to become an eye banking training center for sub-Saharan Africa.
Additionally, the Eye Bank of Ethiopia has proven the concept of broadening eye banking purview from traditional eye bank operations to becoming a catalyst for local eye-care policy across the corneal health system. As a result of coordinated partnership efforts: the first national donation policy has been established, the cultural concept of cadaveric donation has been embraced by the community — a first for sub-Saharan Africa, the Ethiopia Ministry of Health has added corneal care to the national health policy, and eye banking has been established as a sustainable profession in the country.  
The policy adoptions and steady supply of high-quality tissue by the Eye Bank of Ethiopia partnership has enabled the partnership to further expand scope to include clinical training capacity. The partnership has trained nine cornea surgeons through short-term and long-term fellowship programs, including training Ethiopian surgeons in Nepal and the U.S., as well as on-site in Ethiopia. To further bridge the gap, the Himalayan Cataract Project, a nonprofit global health organization empowering local eye care professionals with skills and education, provides corneal care equipment, instruments and consumables to surgeons nationally, all of whom rely on locally sourced tissue from the Eye Bank of Ethiopia.
The Faculty Insight
A supply chain is sustainable when each node in it is sustainable in the long term. Ideally, in such a supply chain, the product, financial, information and labor flows happen in a frictionless manner. Few supply chains today are able to do so. Humanitarian supply chains — where products and services are sourced and distributed to people in need through government, civil society and nonprofit organizations — face an even greater task toward building sustainable supply chains than do commercial supply chains. In addition to the challenge of managing uncertain demand and supply that plague any global supply chain, humanitarian supply chains often have to operate in places of conflict with limited resources and under financial constraints. Unlike disaster-recovery efforts that tend to target specific areas and last for a few months, humanitarian supply chains for improving community health care tend to be multiyear engagements and spread across multiple regions. Close coordination among support organizations, buy-in from the local government and community leaders, and development of long-term local capabilities are critical to success in these supply chains.
The sub-Saharan region of Africa is home to one of the fastest-growing populations today. Yet many countries in the region, including Ethiopia, are fledgling democracies with limited experience in dealing with community health care problems. Weak supply chain infrastructure and security often lead to delays in shipments and loss of products. For long-term health care programs to have a meaningful impact, it is imperative to create local sources of product and manpower that can sustain the supply chain as well as build up development capacity to enable the program to grow organically in the long term. The Eye Bank of Ethiopia has demonstrated this in the case of corneal transplants, a critical program in restoring sight to people affected by blindness and low vision. In this case, unmet demand results in loss of sight, directly affecting the development and livelihood of the people in the region. It is admirable that Eye Bank of Ethiopia Elimination of Corneal Blindness Partnership is able to meet 100 percent of the current demand through its local supply sources. It is well-positioned to create a truly sustainable supply chain for sub-Saharan Africa through its knowledge- and capacity-building programs in the region.   
The Darden School of Business' Institute for Business in Society partners with Concordia and the U.S. Department of State Secretary's Office of Global Partnerships to present the annual P3 Impact Award, which recognizes leading public-private partnerships that improve communities around the world. This year's award will be presented at the digital Concordia Annual Summit 21–25 September 2020. The five finalists will be highlighted on Darden Ideas to Action on Fridays leading up to the event.
This article was developed with the support of Darden's Institute for Business in Society, at which Maggie Morse is director of programs.
1Yemane Berhane, Alemayehu Worku and Abebe Bejiga, "Prevalence and Causes of Blindness and Low Vision in Ethiopia," Ethiopian Journal of Health Development 21 (2007): 204–210.
2M.S. Oliva, T. Schottman and M. Gulati, "Turning the Tide of Corneal Blindness," Indian Journal of Ophthalmology 60, No.5 (2012):423–427, doi:10.4103/0301-4738.100540.
More from
Business, Ethics & Society