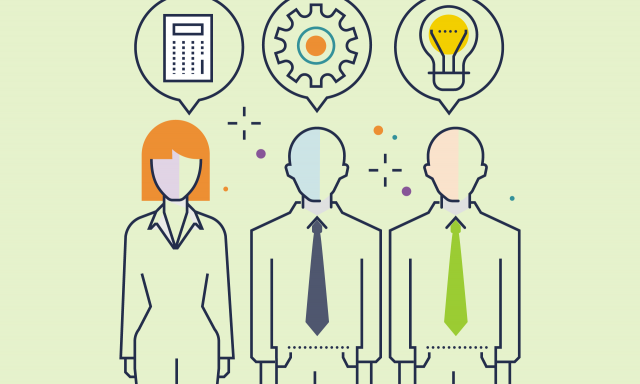 Beyond Quotas: Diversity Strategy at JP Morgan Chase
The big idea
How can companies stop spinning their wheels and make real progress toward diversity and inclusion?
The scenario
Stakeholders throughout JPMorgan Chase were asking a simple question: How do we get managers to really recruit the best talent from the largest talent pool — not just the kind of people they were used to getting? Women and people of color inside and outside the firm, becoming frustrated by their experiences on Wall Street, wanted to know the answer. So did the executive team, known as the Operating Committee. It was fully aware that the talent war required that the firm get this right. And the charge was being led by chief executive Jamie Dimon himself.
The point person for answering the question turned out to be someone who wasn't a recruiter. He wasn't a member of any of the firm's female or minority employee-networking organizations. He wasn't active in national ethnic or gender-leadership organizations. He wasn't even looking to leave his job as a managing director in asset management. But by March 2007, Mark Settles was assigned to recruit outstanding women and people of color to step into executive positions in the firm. He accepted the job because he believed that he could use his trader's discipline to catapult the bank's stature as the Wall Street employer of choice among underrepresented groups. And he knew that he was backed fully by Dimon and would have the CEO's ear if needed.
His pipeline-building strategy was based on his experience as a portfolio manager: Build relationships, acknowledge people as individuals and provide a best-in-class customer experience for prospects. He executed on many tried-and-true recruiting best-practice activities: leveraging referrals, building strong relationships with potential recruits, and strengthening relationships with feeder schools and professional organizations.
But Settles remained faithful to his strategy in uncommon ways as well. For example, he advised business-unit executives on creating and executing solid diversity plans to change the way they approached representation. He helped them understand the firm's real objectives around recruitment, not as expected percentages or quotas, but rather as a goal of making the bank a talent factory that captured as many of the best people as possible. And he enlisted senior executives — especially white men — to help him champion the firm among women and people of color. Not just with lip service support but with authentic, engaged action to sell the bank. In the end, he helped create such a superior onboarding experience that his recruits became some of the most potent advocates for the bank with future candidates.
By having Settles report to the CEO, JPMorgan Chase also sent the message that diversity recruitment was important and instantly strengthened recruiter credibility. And Dimon played his role by not tolerating his people's failure to achieve their diversity objectives.
But in the final analysis, was all this enough to make sustained change in the venerable firm? When Settles had moved on, would the recruiting practices take hold? Was making diversity come alive just about recruiting, or was there more to it? These questions preoccupied Settles as he tried to formulate his next steps.
The resolution
Nearly a year and a half later, the company had a strong pipeline of people of color and women poised for advancement. Some have since moved up the ranks. But the jury is still out on how the kind of progress Settles was generating could be sustained now that he has moved to a new position. Will representation of women and people of color continue to grow? And more important, will their presence really change how the firm does business?
The lesson
Making diversity efforts work requires a clear understanding of the larger strategic goals of your organization first. That understanding — combined with the ability to execute on specific diversity initiatives — makes short-term change possible. But sustained change comes only when leaders are persistent, committed to results, relationship-savvy and courageous. They support their people to design systems and processes that make the value of diversity for their business so compelling that it becomes part of the company's DNA.
This article originally appeared on The Washington Post 
More from
Leadership & Management