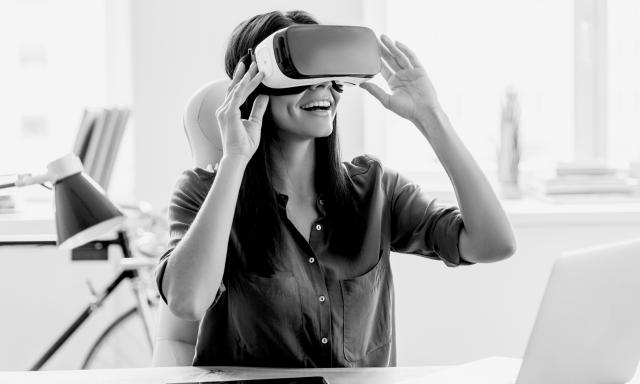 Virtual Reality in the Workplace: Communicating Through Avatars
Anyone who has been in back-to-back online meetings is familiar with "Zoom fatigue," the phenomenon triggered by prolonged video interactions that leave us feeling drained. But what if there were a way to be visually present with others, without having to actually be on camera?
It turns out that virtual reality (VR) may just be the answer. Take LoomieLive Pro, a chat app developed by Loom.ai.1  The app lets users of Microsoft Teams, Zoom and other videoconferencing platforms replace their visual images with cartoon-like, 3D avatars. Because interacting with avatars requires less mental processing than watching human faces on the screen, it reduces Zoom fatigue.2
A New Tool in the Workplace
VR isn't just for entertainment anymore. The technology, first introduced in the 1990s without much market traction, is changing the ways in which we learn, accomplish tasks and interact with the world. Its rising popularity is reflected in forecasts suggesting that worldwide spending on VR and AR (augmented reality) will increase 78.5 percent, from $10.5 billion in 2019 to $18.8 billion in 2020.3
Unsurprisingly, VR is making inroads into the workplace. "Virtual reality — and the use of avatars in particular — is spreading as an emerging management and communication tool in organizations," says Darden Professor Roshni Raveendhran, who studies the future of work and the integration of novel technologies into the workplace.
VIRTUAL REALITY

Virtual reality is a technology that replaces physical reality with computer-generated 3D environments. It allows users to experience those environments visually through devices such as VR headsets, in a tactile manner through VR gloves, and in a fully immersive manner through avatars — real-time, graphic representations of humans.4

Many workplace avatars don't require special VR headsets. LoomieLive, for example, recommends using a regular headset with a microphone but offers a talk/listen toggle for those who don't have one.
According to Raveendhran, ever since the COVID-19 pandemic forced us into lockdowns, organizations have been looking for new ways to keep employees engaged and connected, while keeping them safe. "As companies start thinking about making remote work a longer-term reality," says Raveendhran, "one key challenge pertains to missing social connection, the feeling of being part of the same group. So, there will be a lot more demand for immersive technologies like VR. That's why it's important to understand the psychology that drives people to adopt some of those technologies."
Communicating via Avatars
Even before the pandemic, says Raveendhran, a variety of organizations, including the U.S. Navy, the British Army, Disney and Walmart, used VR for hosting conferences in shared virtual spaces and for recruiting and training.
Raveendhran's research focuses on how organizations can leverage VR to communicate effectively with their employees. Her new study examines when and why leaders might prefer interacting with their subordinates virtually, via computer avatars, rather than face-to-face. In a paper recently published in Computers in Human Behavior, a leading human-computer interaction journal, Raveendhran and her co-authors Nathanael Fast and Peter Carnevale of the University of Southern California explore the psychology driving leaders' preference for interacting via digital avatars in frequent monitoring situations.5
As Raveendhran puts it, "'What is the underlying psychology that drives managers' preference for interacting through avatars?' We examine this question in the context of frequent monitoring, because there is often an external need to monitor people closely, even if the organizational culture gives employees a lot of autonomy. And managers might actually be reluctant to do it, because it comes with the common backlash of being called a micromanager."
Avatars and Psychological Safety
Raveendhran's research revealed that leaders prefer to monitor their subordinates through avatars rather than face-to-face in situations that can trigger a negative judgment and where they feel socially threatened. Using avatars allows managers some psychological distance due to lower social presence relative to face-to-face interactions.2  "Thus, these new immersive technologies," says Raveendhran, "may offer a way to be virtually present and experience psychological safety at the same time."
Personality Factors and the Use of Avatars
Raveendhran's study also examined the role of personality in influencing leaders' preference for monitoring via avatars, focusing on Big-Five personality factors: extraversion, agreeableness, conscientiousness, neuroticism and openness to experience. "We found that while controlling for the other four personality dimensions," says Raveendhran, "only neuroticism was positively related to leaders' preference for using avatars. Those who are higher on the neuroticism scale are more likely to use avatars, because it allows them to exert control without actually physically being there to take all of the negative backlash that might come from it."
Once the domain of video games, VR is playing a growing role in the workplace. By simulating real-world interactions, VR and other immersive technologies can make computer-mediated communication feel more inclusive and engaging. However, as Raveendhran's research demonstrates, there are other significant benefits of using VR in the workplace. "We now know," says Raveendhran, "that people can adopt VR technologies to psychologically buffer themselves from uncomfortable situations. And this distancing aspect can sometimes be as useful in the workplace as the immersive experiences that VR might offer."
This article was developed with the support of Darden's Batten Institute, at which Gosia Glinska is associate director of research impact.
1Loom.ai. website. https://loom-ai.gitbook.io/loomielive/ (Accessed 20 October 2020)
3IDC. "Worldwide Spending on Augmented and Virtual Reality Expected to Reach $18.8 Billion in 2020, According to IDC," 27 November 2019, https://www.idc.com/getdoc.jsp?containerId=prUS45679219 (Accessed 20 October 2020)
4Jeremy Bailenson and James N. Blascovich, J. (2004). "Avatars," in Berkshire Encyclopedia of Human-Computer Interaction, ed. William Sims Bainbridge, Berkshire Publishing Group, Great Barrington, MA.
5Roshni Raveendhran, Nathanael J. Fast, and Peter J. Carnevale, "Virtual (Freedom From) Reality: Evaluation Apprehension and Leaders' Preference for Communicating Through Avatars," Computers in Human Behavior, October 2020. https://doi.org/10.1016/j.chb.2020.106415 (Accessed 20 October 2020).
More from
Global Economies & Markets