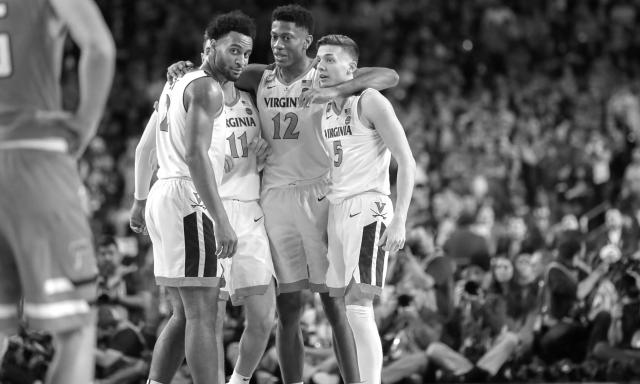 The Art (and Science) of the Bounce Back: Organizational Lessons From UVA's Historic National Championship
I'll admit it. I'm biased. I love this UVA men's basketball team, and it's not just because they won the national championship and I'm a professor of leadership and organizational behavior here. It's because of how they won. Their performance suggests some fundamental truths about teams that go beyond basketball.
What Makes a Setback an Opportunity
First, this Cavaliers team suffered a historically bad loss last season. They entered last year's tournament as the No. 1 seed in their division and were upset in the first round by an electric performance from the No. 16 seed — the only time that has ever happened in tournament history.
While this was a gut-wrenching experience for Hoos players and fans, it also likely set the stage for the team's development. Research suggests that developmental challenges are good up to a point, but without the right conditions they start to become crippling if they are too difficult. Under the right conditions though, people can learn and develop even from incredibly difficult challenges and setbacks.
The keys are whether people have a learning orientation and access to high-quality feedback. People who have a learning orientation are adaptive, they prioritize mastery and learning instead of or in addition to performance, and they tend to view mistakes and setbacks as chances to grow. Those who dominantly focus on performance instead try to preserve their image and avoid future situations where they could fail.
In terms of feedback, to grow and develop in the right ways, people need access to information about why they failed or what behaviors they need to improve in order to succeed in the future. Without guidance for how to improve and overcome, setbacks can seem insurmountable.
With a different set of players or a different coach, a loss like the Cavaliers had in 2018 could have been devastating, leading to players transferring to other schools, to coaches "losing the locker room" or to a malaise that would carry over into the next season. Providing the right environment to enable learning and provide feedback is the role of a coach or leader, and it's a role in which Coach Bennett excelled.
Development of the Individuals and the Unit
People focus a lot on a team's wins and losses. And to be sure, objective performance outputs are important, and a leader is responsible for those. Often overlooked, however, are the other things a coach is responsible for that are harder to quantify — ensuring the development of the individual team members and encouraging the development of the team as a unit. Caring about these other dimensions of leadership is a key to this team's success. As star player Kyle Guy remarked, "Coach Bennett doesn't really care about the rankings. Neither does anybody on the team, which helps because we don't give a hell what anybody thinks. We just want to play basketball."
To encourage individual and team development, leaders need to earn the trust of the individuals on their team to encourage healthy interpersonal dynamics and create psychologically safe environments where people can raise issues and take risks without being punished.
Giving and receiving feedback and taking the risks necessary to learn can be scary for people to do. Without an environment of trust and safety, feedback can quickly turn into relationship conflict and bickering that can inhibit a team's performance. However, teams with high levels of trust can share feedback, question current practices, and have conflicts over the best ways to accomplish tasks and provide ideas for improvement, without it spilling over into relationship conflict.
Hard but Not Mysterious
Finally, how people create environments where there is trust, where people are interested in learning and where there is high-quality feedback, is actually not a mystery. But it is also not easy. It comes down to the two most important things that a leader can do — showing consideration and initiating structure.
Consideration refers to leaders showing individual team members that they are interested in them, that they are valued and by encouraging others on the team to show the same concern for one another. Coach Bennett and the Cavaliers showed consideration and increased the team's trust and cohesion by recruiting players who are willing to put their egos aside, encouraging team members to celebrate each other, and by taking non-basketball bonding adventures together where people could be vulnerable and get to know each other off the court. Guard Ty Jerome remarked post-game that part of the key to success is that "You get to spend a year with people that you love," and "Not a lot of people get along like we do."
Initiating structure refers to clearly defining the roles that people play on a team and showing them how those roles fit together to produce a total output. This step helps reduce ambiguity about who does what or where efforts should be directed. It also helps to know what feedback to give, because the feedback should be in service of improving in a role or function. At a high-level, Coach Bennett had five pillars for behavior that players were expected to buy into: Humility, Passion, Unity, Servanthood and Thankfulness. This clarity helps provide a standard for behavior by judging whether one's actions are aligned with these principles. He also has a clear system for play — a pack-line defense and a precision offense — that emphasizes the team over individual excellence. Therefore, feedback can be oriented toward improving individuals' position skills in the service of that greater goal.
In short, as a fan I'm excited for this team, for the University of Virginia and for Charlottesville. And anyone who is interested in the science of team dynamics and leadership should be interested in the lessons that Coach Bennett and the Hoos demonstrated so well in their storybook run to a championship. These lessons are admittedly easier to describe than implement, but the performance outcomes of executing them well are clear.
More from
Leadership & Management