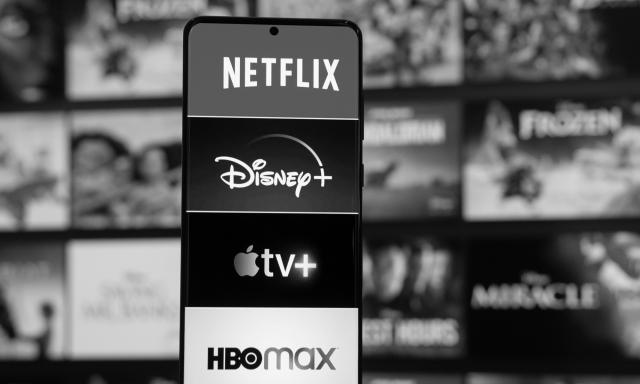 The Personality Traits of Streaming Services: What Roles Do Original Series Play?
"Watching television" means something different than it did 10 years ago. How might it further change in the age of streaming services? It's a question that may significantly be affected by revenue sources.
Darden Professor Anthony Palomba's recent paper "Building OTT Brand Loyalty and Brand Equity: Impact of Original Series on OTT Services" focuses on one of those sources: original streaming series. Several streaming services have managed to produce original hits that seize our collective attention even in a saturated market — think Stranger Things on Netflix or Game of Thrones on HBO Max.
These original series can be expensive to produce, with complicated sets, filming locations and high-profile cast members. In the final season of Game of Thrones, one episode alone cost $15 million. However, the investment can pay off — and not just in dollars. In his study, Palomba found that original series significantly influence how consumers perceive a brand and can help to build brand loyalty and brand equity — the unique influence a brand has on a customer base.
Cool vs. Uncool
"I was interested in trying to assess to what extent original series contribute to brand loyalty and brand equity and — as things move along — how a service can keep and maintain that audience," Palomba said.
He found that the content of original series influenced how consumers viewed the service itself. For example, if one viewer watched heroic content on Netflix — such as Bill Nye Saves the World or Mindhunter — that viewer is more likely to perceive Netflix itself as cool and bold. However, if a different viewer watched a show that involved persevering through hardship, such as Unbreakable Kimmy Schmidt or Master of None, that viewer might perceive Netflix as perseverance-oriented in nature.
With that knowledge, brands can deliberately use original series to associate themselves with specific traits and, thanks to the streaming feature that targets recommendations to each user, they can present different brand traits to different user groups.
"If a particular entertainment brand personality trait resonates deeply with one consumer segment over another, Netflix can deploy original series and targeted social media campaigns to help shore up that perception," Palomba wrote in the paper.
"From a strategic standpoint, OTT [over-the-top streaming] services are able to pivot their own brand to what consumers envision them to be based around how original content is pushed to consumers," Palomba wrote. "OTT services are able to manage brand personalities through recommendations and content carousels. This allows managers to ensure that an OTT service meets consumer expectations across different consumer segments, and maintains subscriptions."
Jumping vs. Retention
Maintaining subscriptions is crucial and tricky in a world in which consumers can easily cancel a subscription and jump from one original series to the next, from Stranger Things on Netflix to The Handmaid's Tale on Hulu to Game of Thrones on HBO — and back again.
"Retention becomes really tricky," Palomba said. That is one reason streaming services are moving away from number of subscribers as a primary metric and toward a metric called ARPU, or average revenue per user. That metric allows streaming services to measure how loyal a customer is and, crucially, how much ad revenue they could potentially generate." It's a metric perhaps similar to retail's judgment of customer lifetime value.
"It becomes a matter of stickiness," Palomba said. "How long can you keep a customer? And can you keep them long enough to show them advertisements?"
Quality vs. Quantity
As Palomba has noted in previous work, streaming services increasingly see advertising as a stable revenue source, which is why Netflix and several others have introduced ad-supported subscriptions alongside pricier ad-free options.
Relatedly, some streaming companies are starting to shift to a "less is more" approach to content, with less volume but more high-quality, targeted content, such as original series. Palomba believes this is a smart approach.
"I think we will see smart companies paring down content and focusing on quality over quantity," he said.
He is also interested in how companies can plan for and create those "viral" moments, when an original series explodes onto the scene and becomes a fixture in the national conversation.
"I think it is interesting to think about how companies are curating their content so that people can find it — and so that they allow people to 'discover' it on their own," Palomba said. "Finding something in a seemingly serendipitous manner and having it spread by word of mouth, that is fun for people …. How do you equip, prepare for and stage those moments in which something is a blissful discovery?"
He believes companies will focus more and more around the idea of high-quality, highly targeted content, and that brands themselves will continue to consolidate, as seen recently when then-HBO and Discovery+ streaming services merged into HBO Max.
"I think we will see more mergers and acquisitions," he said. "It all comes down to the question of how to present less content but market it successfully." 
Anthony Palomba authored "Building OTT Brand Loyalty and Brand Equity: Impact of Original Series on OTT Services," which appeared in Telematics and Informatics.
More from
Marketing & Sales