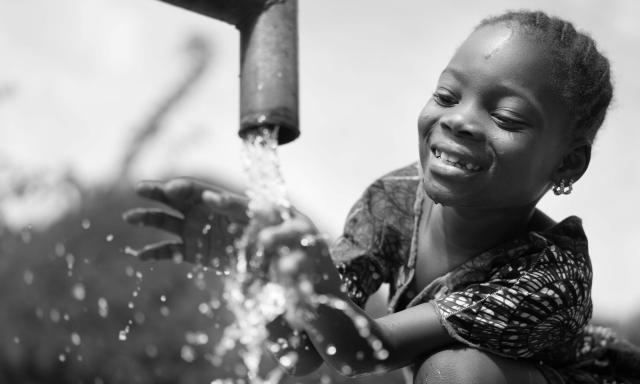 The Stakeholder Podcast: Save the Children and the Evolution of Business
The Stakeholder Podcast, hosted by Darden Professor Ed Freeman, features prominent business and multisector leaders in intimate discussions about the purpose of business, the purpose they have found in their careers and their shared optimism about business' ability to make the world better.
In a recent episode, Darden alumna and former CEO of Save the Children, Carolyn Miles (MBA '88), shares her motivation for leaving a successful career in business and joining the not-for-profit world.
"I didn't have that thought in mind when I left Darden," she said. But, after a career in sales and marketing and after successfully developing and selling a coffee shop chain, Miles began looking for ways to ensure that children had better opportunities to have healthy, successful lives. Traveling around Asia with her own young children and meeting other families, she recognized that "The opportunities for children were so different around the world. My kids were born to two Darden grads and could do anything they wanted. And others … were born into poverty." She soon landed at Save the Children, where she became CEO, doubled the number of children they served and innovated the not-for-profit space.
Miles discusses the evolution of for-profit business' relationship to nonprofits, from philanthropic models to corporate social responsibility models to real partnerships: "The business partners now actually share the goals of the nonprofit … over the last decade … what you are seeing is the incorporation of NGOs and not-for-profits into businesses' sustainability plans. They are actually written into the plans as true partners." Miles sees businesses changing their social strategies and taking more notice of their stakeholders' needs in part because the world's problems are more immediate for every business, not just for poor people or for the developing world, who were hit first by the effects of climate change, environmental degradation and other ills.
In her new role as a senior adviser to Darden Dean Scott Beardsley, Miles is helping develop corporate partnerships, sustainability strategies, diversity and inclusion initiatives, and is teaching a course on corporate sustainability to the next generation of business leaders. She tells Professor Freeman about how the pandemic changed work and how Darden and other organizations can overcome institutional inertia and leverage the lessons of the pandemic to be stronger, create more loyalty, be more sustainable and enhance the future of the entire enterprise.
More from
Business, Ethics & Society