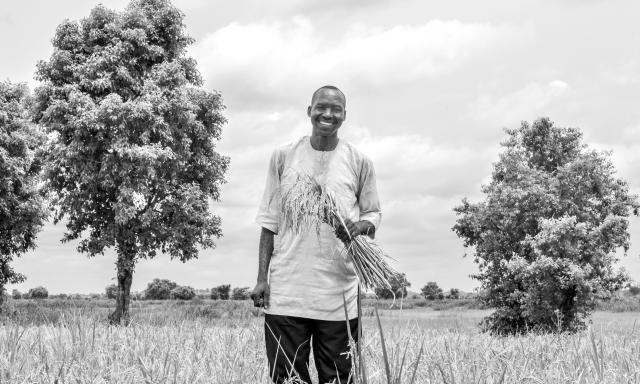 Rising Rice Consumption in Nigeria: Farming and the Value of a Value Chain
The Social Challenge
Economic Development
Rice consumption in Nigeria has been rising steadily — about 5.6 million metric tons in 2011 and 6.9 million tons presently — but market, production and policy limitations mean domestic production often fails to meet demand, and the increase is largely made up for with costly imports. Between 2012 and 2015, Nigeria imported $4 billion worth of rice in order to meet expanding consumption. Yet Nigeria actually has the capacity to be a net exporter of rice.
A space for stakeholders to engage with each other about the commodity value chain was needed and did not exist.
The Partnership
The Value Chain Development Program
The Partners
Benue State Ministry of Agriculture

Federal Ministry of Agriculture and Rural Development, Nigeria

Olam Nigeria Limited, a subsidiary of Olam International

Smallholder farmer organizations

United Nations International Fund for Agricultural Development (IFAD)
The Idea and the Action
The Value Chain Development Program (VCDP) partnership, established in 2015 by the Nigerian government, IFAD and Olam, is designed to improve the livelihoods of economically disadvantaged farmers by giving them a stake in a major, fast-growing agricultural value chain.
A six-year initiative, VCDP aims to improve both cassava and rice value chains for smallholders, reducing rural poverty, increasing food security, creating jobs and accelerating economic growth on an inclusive and sustainable basis. To those ends, VCDP established an innovative Commodity Alliance Forum (CAF), which comprises the government, buyers, financial institutions, suppliers and smallholder farmers.
This forum allows farmers to engage with the private sector on issues relating to marketing, credit access and availability, as well as to consult with the government regarding policy and infrastructure support on a sustainable basis.
Through the program, Olam, a food and agribusiness that connects customers to farmers, agreed to invest in increasing the productive capacity of participating rice farmers and to purchase the rice. With previous experience in establishing commercial relationships with smallholder farmers, the company offers smallholders digital credit, co-financing for extension services, and the creation of collection centers within 15 kilometers of production clusters. Meanwhile, the company benefits from consistent and high-quality supplies of rice.
The Impact
The partnership leverages Olam's financial and technical capacity, the government of Nigeria's outreach, and IFAD's brokering, finance and monitoring capacity. It is one of the first public-private-partnerships in the agriculture sector in Nigeria and has had transformative impact, especially in terms of youth involvement in agriculture and the market participation of female farmers. Not only has VCDP introduced a model for job creation for youth in agriculture through the creation of youth group agribusiness, but also 48 percent of the more than 2,200 hectares of land it has developed is allocated to previously landless women and youth.
Of the 45,000 smallholders, processors and marketers participating in VCDP, about 70 percent have doubled their agricultural income. In the case of farmers, the increase was from $611 to $1,375 per hectare. In three years, roughly $137.5 million from sales was deposited in the bank accounts of participating farmers.
Record keeping, business planning and connection to financial institutions has been strengthened for 3,500 farming organizations. To date, 3,292 purchase agreements have been signed between individual farmers' organizations and major buyers. Additional produce aggregation centers, or storage facilities, have been either constructed or rehabilitated, which has reduced post-harvest losses by 70 percent.
Since VCDP's inception, farmers produced and marketed over 450,000 metric tons of rice — a significant contribution to national and local food security.
The Faculty Insight
In a country in which 70 percent of the population lives in rural areas, the agriculture sector is a major part of economic activity. And when rice is a staple and amounts to an important portion of household food budgets, a symbiotic relationship between domestic production and consumption would seem natural. Yet domestic production has failed to meet domestic demand, and the hole has been filled by other countries.
Through its commitment to provide rice farmers with access to a reliable, profitable market, VCDP enables and encourages local production. Providing important tangible resources like seeds, fertilizers and agrochemicals — as well as the extension of credit and guarantee to buy the product at a fair price at the end of the season — the partnership alleviates risk that might dissuade smallholders from investing in productivity enhancements. And such enhancements, like increased mechanization on farms, not only increase scale for farmers, they create services and jobs for local service providers in support of mechanics.
Additionally, this P3 assists in technology and training that improve efficiency and quality in the product. For example, Nigerian producers have struggled with competition from the long-grain, parboiled rice imported from Thailand. In training rice processors in parboiling technology, which keeps the rice from direct contact with the vat in order to avoid burning when boiled, VCDP helps them both lower the cost of production and improve the appeal of the product with local consumers. By increasing both the quantity and quality of the product, the partnership increases incomes for Nigerian farmers and increases the amount of local rice available to Nigerian households.
The Darden School of Business' Institute for Business in Society partners with Concordia and the U.S. Department of State Secretary's Office of Global Partnerships to present the annual P3 Impact Award, which recognizes leading public-private partnerships that improve communities around the world. This year's award will be presented at the Concordia Annual Summit 22–24 September 2019. The five finalists will be highlighted on Darden Ideas to Action on Fridays leading up to the event.
More from
Global Economies & Markets