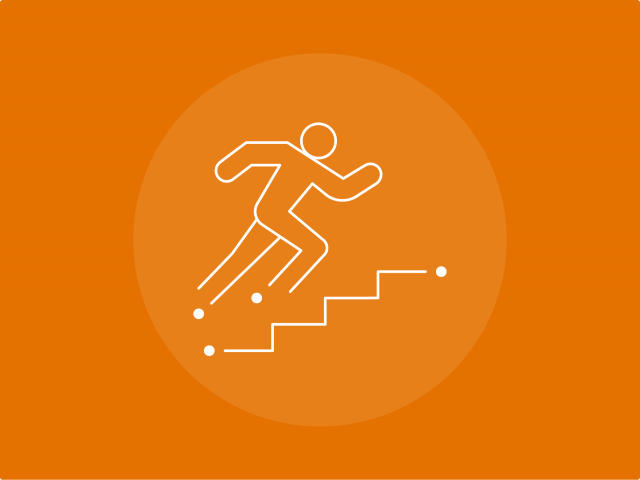 Process Improvement: Weight Loss
The Big Idea
Process-improvement activities may take many forms. A widespread technique is A3 thinking, so called because the processes are reported in a structured method using as single sheet of A3 paper, which measures 11 by 17 inches. Toyota developed the format, which serves as "standard work" for reporting improvement activities' results.
The Scenario
After a particularly indulgent Thanksgiving holiday, 56-year-old Elton Ross had his annual physical. His concerned doctor told him what he already knew: Ross had myriad health problems, including obesity and prediabetes. He was uncomfortable, had a sense of dissatisfaction with himself and felt frustrated; he hadn't been successful at losing weight in 15 years. Ross wanted to spend the following Thanksgiving with an improved physical state and peace of mind.
The Resolution
To solve his health and weight issue, Elton Ross decided to implement the six-step A3 process.
Problem Definition
In the first step of the process, Ross describes the problem and provides background information. This conveys the context of the situation and leads into the current condition.
Q: Why is this an important problem?
A: Ross is overweight and concerned about the effect it is having on his health.
Current Condition
The current condition is a starting point. This provides the baseline for improvement efforts and offers metrics with which Ross can measure his improvement (or lack thereof). It is appropriate to include both qualitative and quantitative items in the current condition description.
Q: What are the issues we are trying to improve, and what are the metrics that indicate we have a problem?
A: Ross is 300 pounds, his clothes don't fit, he has low self-confidence, he's on a multitude of medications for high cholesterol and blood pressure, and his recent blood-test results have provided important numbers, showing elevated blood-sugar and fatty-deposit levels.
Goal/Target Condition
Ross sets a target weight loss — it's a stretch goal, but he wants the incentive to encourage fundamental changes, and he puts a time frame on the goal to measure the journey toward success.
Q: What are the overarching goals, and what outcomes are needed?
A: Ross aims to lose 60 pounds in 30 weeks. With that achievement, he'll purchase a new wardrobe, sleep better, have more stamina playing sports, reduce his blood sugar and medications, and feel proud of himself.
Root-Cause Analysis
Ross considers the cause of his weight gain. While he's been dissatisfied with his current condition, he hasn't done much about it. He concludes that the primary causes are lack of motivation and mindless eating.
Q: What are the root causes of the problem, and what else do we need to know to reach the target condition?
A: Ross' caloric intake exceeds caloric consumption due to a number of factors, including lack of understanding of the relationship between action and results, lack of motivation, eating too much of the "wrong" foods, mindless eating and poor understanding of nutrition.
Countermeasures/Experiments/Recommendations
Ross realizes that the root cause of his problem is essentially eating too much of the wrong foods and that he needs some sort of control system — as well as a support system. He decides to learn more about nutrition through a program offered by his employer about preventing diabetes, as type-2 diabetes is a consequence of excessive weight. The program provides him with a coach to whom he gives weekly updates on exercise and weight, and it provides education about nutrition, exercise and eating habits.
Q: What are the proposed countermeasures to address the prioritized root cause and the proposed experiments to move forward, learn and better understand?
A: Ross plans to limit carbohydrate intake, reduce calories, eliminate mindless eating, engage in daily weigh-ins and exercise, and hold weekly check-ins with his program coach.
Over the course of months of hard work, Ross follows his plan and reaches his goals. Although some weeks are better than others, he has relatively steady weight loss. He learned some new habits about snacking and realizes that when he feels hungry, it isn't always because he needs food. Taking a walk or getting a cup of tea or coffee could satisfy his hunger. He avoids snacks of nut, cheese, crackers and peanut butter and replaces them with cucumbers, celery and lettuce.
But can he sustain these changes?
Implementation and Sustainability Plan
Ross is pleased by the results of his hard work. He feels great, his blood pressure is down, he snores less, and he has more energy for work, family and sports. He purchases an entirely new wardrobe. His resting pulse is way down as well, and he's able to reduce some of his medications.
He knows, however, that it will be all for naught if he can't sustain the weight loss. Luckily, his coach volunteers to keep helping with weekly report-ins, and also identified actions for when Ross wanders away from his goals.
Q: Who is responsible for what, by when, and how will we maintain the gains?
A: To standardize and sustain, Ross and his coach develop a plan: Weekly check-ins and a three-zone system of identifying status and action:
Green: Under 245 pounds — maintain status quo

Yellow: Between 245 and 250 pounds — take minor remedial actions

Red: Above 250 pounds — take major remedial actions
The Lesson
The beauty of an A3 report, particularly when compared to a multiple-slide PowerPoint deck, is its structure and ease of understanding. The process steps are clearly delineated, and the reader knows exactly where to look for significant items. One of the most important uses of A3 reports is to assist in the development of problem-solving skills.
A3 thinking may be used for many activities, including problem-solving, proposal writing and status reporting, as well as integrated into one's personal life.  
The preceding is drawn from the technical note A3 Thinking for Weight Loss (Darden Business Publishing) by Darden Professor Elliott N. Weiss.
More from
Operations & Technology