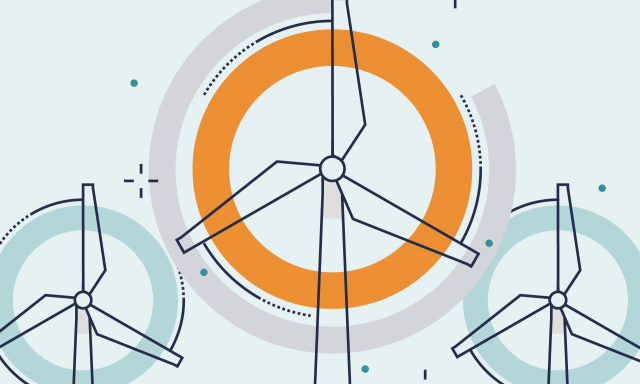 Post-COVID: An Opportunity for a Greener Future
COVID-19 is a double-whammy disaster for public health and for the economy. And yet, despite these dual crises, we see the glimmer of a silver lining. The natural environment, under siege for decades, is suddenly experiencing a recovery, of sorts. Pollution is down. Skies are clearing. Wildlife are returning to urbanized areas. By year end, we may experience the biggest dip in global carbon emissions on record.1   
What can we make of this environmental reprieve? The pandemic, despite its many horrors, may offer a unique opportunity to lock in today's environmental gains, but only if the United States adopts a recovery package that not only creates jobs but also leads toward a decarbonized future.2
A Clean Energy Recovery Plan
A post-COVID Clean Energy Recovery Plan3  would combine economic development, job creation, and climate goals through new funding that could both jump-start the economy during the current recession and rebuild it in a more sustainable way. Such public job-creation programs would specifically target regions likely to suffer disproportionately from any changes in our current energy mix — such as the coal-producing communities of Appalachia and the oil-producing regions of Texas and the upper Midwest.
Creating jobs through public works funding that benefit society at large isn't a new idea. Following the Great Depression, the Hoover Dam, a federally funded hydroelectric power project, provided jobs to 20,000 people and established clean energy as a leading source of electricity in the United States by 1900. As we work to rebuild the economy, can we create new jobs and protect the environment?4
Europe Leads While We Cling to the Past
The European Union is taking the lead in pursuing a clean energy recovery, recently adopting a Next Generation recovery package that calls for investment in building and infrastructure renovations, massive rollouts of renewable energy projects, clean transportation, and the development of a hydrogen economy (relying on hydrogen to fuel transportation, energy and industrial sectors). These are investments not only in a clean energy future, but they also lay the groundwork for a vibrant and resilient economic recovery in sectors poised to innovate and lead economic growth.
In the United States, however, stimulus funding has targeted mostly oil-and-gas companies, while the clean-energy industry has been left to navigate the current economic crisis on its own. Largely such stimulus funds are going to sectors on the decline, despite the fact that the price of solar and wind power have declined dramatically, making them cost-competitive with natural gas. This year, solar and wind will represent 76 percent of new U.S. electric generating capacity. Rather than investing in the future, the United States is trying to save a past that is quickly being disrupted. Imagine the folly of bailing out the New England whaling industry after the rise of kerosene. Are we making such a mistake by propping up sectors, such as oil and gas, that are on the decline?
Develop a Clean Energy Workforce
The odds of passing a wholesale Clean Energy Recovery Plan in the United States may seem slim given today's political polarization. Nonetheless, there may be an opportunity now to focus on a theme that both parties can get behind: to position a clean energy recovery as the best path forward for future growth, job creation and economic resiliency.
We see a future in which the United States can be a global leader in advancing technology, cultivating leading businesses and educating the workforce of the future. The marketplace is already speaking. U.S. electric-vehicle maker Tesla is now higher valued than all legacy U.S. auto companies combined and ranked No. 1 worldwide. In the first quarter of 2020, renewable energy stocks outperformed oil and gas stocks and are proving to be less volatile during this crisis.5
Getting people back to work must be central to any recovery plan. The University of Chicago's Becker Friedman Institute estimates that 42 percent of the jobs lost as a result of the pandemic are gone for good. Clean energy could employ many of these people. Until this year, jobs in clean-energy categories saw year-over-year growth. Solar and wind are two of the fastest growing industries6 , and grid modernization and energy storage are also emerging as areas ripe with opportunity, employing more than 150,000 people in 2019. Yet, clean energy hasn't escaped the downturn, with many projects stalled due to uncertainty. In the United States, 100,000 jobs were lost just in the first few weeks of the pandemic.7  
A green-focused stimulus would not only restore jobs lost in clean energy but could also provide new opportunities to those facing unemployment post-pandemic. Transitioning workers will require widespread workforce training as the clean energy industry is already struggling with finding workers with the right technical skills. Companies continue to report difficulties in hiring. According to one report, more than two-thirds of wind and solar companies surveyed said that hiring was either somewhat or very difficult.8  Across the electric generation sector, lack of experience, training and technical skills were cited as hiring challenges. Workforce training will be crucial for a clean energy job stimulus package.
A Collective Call to Action
Many organizations across the country are calling on the U.S. government to "green" the next economic recovery package. The Rocky Mountain Institute, C2ES, World Resources Institute, Sierra Club — all well-known voices on climate policy — are presenting green-recovery proposals to Congress. Businesses are stepping up, too. Last month, CERES, a sustainability nonprofit organization that partners with private industry leaders to advocate on climate, led a virtual event called LEAD on Climate 2020 Business Call to Action: Build Back Better. The purpose of the one-day event was to educate legislators and staff on the need for climate action. More than 300 major businesses9  across multiple sectors participated in virtual meetings with 88 congressional offices (Republicans and Democrats) to advocate for a recovery plan that seeks to build a more resilient economy while considering climate impact. 
Historically, the U.S. has greatly benefited from technology leadership in diverse sectors such as automobiles and computing. We have created world-beating companies that have created jobs and driven economic growth. But there are no guarantees that we will continue to do so moving forward.  Other countries are investing heavily in next-generation clean energy, most notably the EU and China.  Make no mistake, previous U.S. technology dominance has been driven by a mix of private and public investment. Are we prepared to seize the moment and invest in our future? 
Just as the government funded the infrastructure that brought forth the internet and the digital revolution, now is the time to invest in our energy infrastructure to help catalyze a clean energy revolution — creating new jobs, spurring private investment, cultivating world-leading companies, driving economic growth, and ultimately improving standards of living and general welfare
This article was developed with the support of Darden's Batten Institute, at which Rebecca Duff is senior research associate for the Business Innovation and Climate Change Initiative.
1Simon Evans, "Analysis: Coronavirus Set to Ccause Largest Ever Annual Fall in CO2 Emissions," Carbon Brief, 9 April 2020, https://www.carbonbrief.org/analysis-coronavirus-set-to-cause-largest-ever-annual-fall-in-co2-emissions.
2To limit global warming to 1.5 degrees Celsius, which is a goal of the 2016 Paris Agreement that the current U.S. administration recently exited, will require a reduction in net-global greenhouse-gas emissions to zero by approximately 2050. This will only be possible by: 1) converting global electrical generation capacity to zero-emitting technologies, such as solar and wind power; and, 2) electrifying systems that currently rely on fossil fuels, such as transportation and many industrial processes. These transitions will need investment, especially in new infrastructure for: energy generation, storage and transmission capacity; a modernized grid; electric-vehicle charging stations; and electrified buildings.
3The broad outlines of this plan were first set forth by delegates to the 2018 Jefferson Innovation Summit, hosted by UVA Darden's Batten Institute. Described then as a "New Deal for Clean Energy," it comprised one of six critical policy actions needed to more quickly move the needle on mitigating climate change.
4To be clear, this Clean Energy Recovery Plan differs from the broader Green New Deal introduced by U.S. Representative Alexandria Ocasio-Cortez (D-NY) and Senator Ed Markey (D-MA) in 2019. The Clean Energy Recovery Plan is narrower in scope and more in the spirit of President Roosevelt's original New Deal, especially as it pertained to infrastructure investment and job creation.
5Leslie Hook, "Clean Power Stocks Outperform Fossil Fuel Peers During Pandemic," Financial Times, 28 May 2020, https://www.ft.com/content/08675019-1386-49ac-a718-031d6ab85051.
6NASEO and EFI, 2020 U.S. Energy & Employment Report, www.USEnergyjobs.org.
7E2, Clean Jobs America 2020, April 2020, https://e2.org/wp-content/uploads/2020/04/E2-Clean-Jobs-America-2020.pdf.
82020 US Energy & Employment Report.
9Companies included Salesforce, Capital One, Jones Lang LaSalle, LafargeHolcim, Mars, Microsoft, NRG, Nike, Visa and LinkedIn.
More from
Entrepreneurship & Innovation