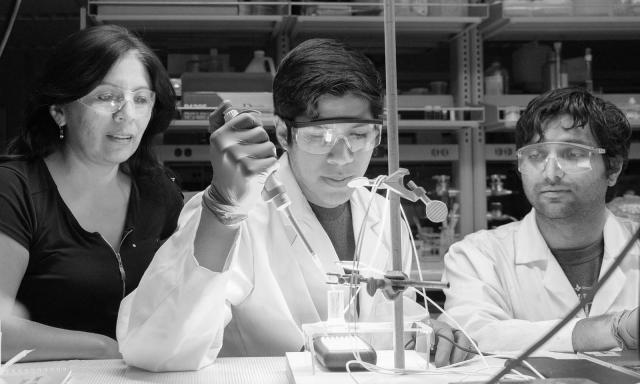 The Power of an Education Exchange
The Social Challenge
Workforce development and education for underserved populations
Education exchanges have long fostered international education cooperation and promoted technical, linguistic and intercultural skill development needed for students to succeed in a more connected, global world. However, due to financial constraints and limited regional education cooperation, opportunities for educational exchanges between the U.S. and the rest of the Western Hemisphere have lagged behind other world regions.
For instance, in 2014, 64,000 students from Latin America and the Caribbean (LAC) countries were studying in the U.S. each year, while only 40,000 U.S. students were studying in LAC countries annually.1  To put that in perspective, South Korea alone sent more than 80,000 students to the U.S. in the 2014–15 academic year — more than all LAC countries combined.2
Since the 100,000 Strong in the Americas (100K) Innovation Fund launched, it has championed the power of education to deliver economic development, stimulate cross-sector partnerships, and create networks of private companies, NGOs, governments and academics working toward a common goal of creating workforce-focused international education and training opportunities in the Americas.
The Partnership
100,000 Strong in the Americas (100K) Innovation Fund
The Partners
Core implementing partners:

U.S. Department of State, Bureau of Western Hemisphere Affairs (WHA/DOS)

Partners of the Americas (POA)

U.S. embassies in Latin America and the Caribbean

NAFSA: Association of International Educators

Key private sector and non-U.S. public sector partners:

Santander Bank

ExxonMobil

CAF: Development Bank of Latin America

Coca-Cola Foundation — Mexico

MetLife Foundation

Ministry of Science, Technology and Innovation (Government of Colombia)

Colombian Institute of Educational Loans and Studies Abroad (ICETEX)

National Learning Service (SENA) (Government of Colombia)

Campus Puerto Rico

Ford Foundation

Televisa Foundation

NAFSA Board of Directors (Marlene Johnson Innovation Challenge)

Cementos Progreso

AgroAmerica

Banorte Foundation

Gruma Foundation

National Service of Industrial Training (SENAI) (Government of Brazil)

Freeport-McMoRan Copper and Gold

SEMPRA Energy
The Idea and the Action
The 100,000 Strong in the Americas Innovation Fund is an impactful and durable hemisphere-wide education initiative that builds institutional capacity, catalyzes student development and mobility, and expands inter-regional partnerships. 
Since its inception, the 100K Innovation Fund's goals have been to:
Build partnerships between higher education institutions (HEIs) in the U.S. and the rest of the Western Hemisphere.

Increase student opportunities to participate in new models of academic exchange and training programs.

Increase the number and diversity of students in the Americas having access to innovative academic training opportunities to work in teams and gain technical, linguistic, intercultural skills, as well as prepare for the regional workforce.

Connect to U.S. government policy goals of promoting education, exchanges, workforce development, youth engagement, economic empowerment and cross-sector partnerships.
The 100K Innovation Fund partners collaborate with over 20 regional public and private partners to develop strategically targeted grant competitions in which international HEI teams propose new bidirectional exchange and training programs. For each competition, the partners work with private sector companies, foundations or regional government entities to identify strategic themes linked to donor-partners' regional interests and workforce demands. Applying teams must show their programs will increase access to underserved student groups, be sustainable beyond the grant and address systemic institutional barriers to greater student mobility.
Unlike traditional scholarship programs, which support individual students or faculty, the 100K Innovation Fund stimulates innovation at the institutional level and provides critical funding on a competitive basis to HEIs to build partnerships that result in innovative exchange and training programs that are scalable and sustainable.
The 100K Fund is based on the principle that a competitive selection process stimulates "leveraged innovation," ensuring that the "innovation grants" are awarded to the most innovative projects led by the most invested teams of HEIs.
The Impact
As of July 2021, the 100K Innovation Fund has leveraged over $22 million from regional private sector, foundations, government entities, NGOs and academia (with 51 percent from non-U.S. government sources) to support the grants. The 100K Innovation Fund also challenges HEIs to offer matching funds, which on average surpass the dollar value of the grant itself (between $25,000 to $35,000 each) by more than 80 percent — meaning that for every 100K donor dollar invested, more than $1.80 is provided in additional funds from 100K grant-winning HEI teams.
As a result of regional public-private partnership efforts lead by WHA/DOS and POA along with regional U.S. embassies, the 100K Innovation Fund has awarded 264 grants to teams of 515 HEIs working in 25 LAC countries and 49 U.S. states and territories. In addition, the 100K network is a growing group of over 2,300 highly engaged HEIs in the U.S. and LAC countries. To date, Mexico, Colombia, Brazil, Peru, Argentina, Chile and Guatemala are the leading countries to partner with HEIs in the United States to create and implement innovative education exchanges for teams of students. For many participants, the 100K partnerships provide them with their first experience of working with students and faculty outside their home countries. After eight years, the demand for partnership building grants continues to exceed the funds available in each 100K grant competition.
Perhaps most telling is that after years of stagnation, the annual indicators of bidirectional mobility between the U.S. and LAC countries have increased markedly to 80,204 LAC students (25 percent growth) and 47,954 U.S. students (19 percent growth) since the launch of the 100K Fund.1
The Faculty Insight
Public-private partnerships are often started with the best of intentions but without the design elements in place to ensure sustainability and growth in impact. One of the most interesting aspects of the 100,000 Strong in the Americas Innovation Fund is its use of a public-private partnership model to create systemic — not just individual — change . There are several elements of this public-private partnership approach that are important for success.
First, work in the field suggests that for sustained, systemic change, public-private partnerships need to address the challenges that working in individual sectors does not allow. The truth is that working collectively and collaboratively across multiple sectors may not be the best solution for every problem. But in arenas such as education for underserved populations, in which there is potential for long-term social outcomes, this model can have important impact —a combined approach can accomplish something that individual parties acting alone have difficulty doing. The 100K Innovation Fund needed to engage private companies, NGOs, governments and academics in order to create opportunities in the higher education systems of several countries.
A second pain point that often hinders sustained change delivery is the use of informal public-private cooperation without some formal structural collaboration. In education in particular, parties often share values regarding a goal but lack of clarity when working across government, nonprofit and corporate sectors. The benefit of a formal public-private partnership is the required articulation regarding the clarity of responsibilities, decision-making methods and governance role for each party. While keeping the goal of systemic change front and center, the 100K Innovation Fund appears to have structurally collaborated with the individual private sector partners and regional governments to help ensure the strategic objects were met, including what technical training opportunities were most needed.
Thirdly, what is vital for success of these efforts — especially at the scale this partnership seeks — is that the incentives for each partner are aligned to achieve the systemic and scaled goals of the effort. And finally, a clear delivery team is in place that shows early successes and the ability to preserve flexibility over the sustained program.
The Darden School of Business' Institute for Business in Society partners with Concordia and the U.S. Department of State Secretary's Office of Global Partnerships to present the annual P3 Impact Award, which recognizes leading public-private partnerships that improve communities around the world. This year's award will be presented at the Concordia Annual Summit the week of 20 September 2021. The five finalists will be highlighted on Darden Ideas to Action on Fridays leading up to the event.
This article was developed with the support of Darden's Institute for Business in Society, at which Maggie Morse is director of programs.
More from
Business, Ethics & Society