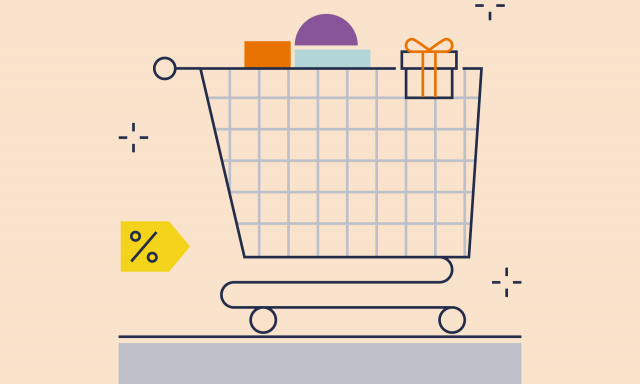 Q&A: Navigating E-Commerce's 'Last Mile'
Think for a moment about the number of packages that you might receive in a week: perhaps groceries from Walmart, new clothes from your favorite retailer and one or two (or maybe more) of those ubiquitous Amazon boxes.
Odds are, that number has increased over the past several years. American e-commerce sales grew by about 15 percent last year, and the number of packages delivered annually in the U.S. is expected to rise from about 11 billion in 2018 to 16 billion in 2020. 
Carriers, particularly the big ones, have gotten pretty good at getting all of those items across the country in bulk. But getting each one from a point of distribution to customers' homes — commonly referred to as "the last mile" — poses an economic challenge, especially in less-dense suburban and rural areas. It's expensive and inefficient, with trucks from UPS, FedEx, the U.S. Postal Service and others all coming to the same house to drop off different packages, often within hours of each other.
Solving that problem will be "the next major battle in e-commerce supremacy," according to an article co-written by Timothy Laseter, a professor of practice at the University of Virginia's Darden School of Business, for strategy+business, a management magazine.
Laseter teaches courses in operations strategy, innovation and emerging technology. He is also a managing director at PwC's global strategy consulting firm, Strategy&, and a contributing editor for strategy+business.
We spoke with him to learn more about the challenges of the "last mile" and the future of all those packages.
Q. What is the "last mile"?
A. The term has been used in multiple contexts, but in e-commerce the "last mile" refers to the distance between a distribution point and someone's home. Historically, the consumer was responsible for the last mile, as they purchased things in a store and brought them home. However, that has changed significantly with e-commerce.
Q. Why is it so challenging for retailers selling online to cover the last mile?
A. In short, it is very expensive. Transportation economics are a function of drop size and density. Taking large truckloads of products to a single destination, like a store or distribution center, is cost-effective, but delivering small individual packages — which are not worth nearly as much — greatly increases transportation costs per item.
For Walmart, for example, delivering a large truckload of products worth thousands of dollars to a store is much more cost-effective than delivering individual groceries to consumers' homes. This is particularly true in suburban and rural markets, where houses are further apart.
Q. What solutions have been tried so far?
A. Amazon is the leader in this and sets the industry standard. It has more than 100 fulfillment centers spread across the U.S., twice as many as Walmart has serving their stores and more than tenfold what Walmart has for e-commerce. That gives Amazon a geographic advantage, and the huge volume of orders they process gives them an economic advantage. Additionally, they just recently went to one-day Prime shipping, which sets a speed expectation that is difficult for other retailers to match.
Traditional retailers are handling that challenge by leveraging their brick-and-mortar stores. Continuing with the Walmart example, they have more than 4,000 U.S. stores that they treat as distribution points, which is why we are seeing more options for consumers to "click and collect," or pick up online orders at the curb [outside the store]. It is still not as efficient as a distribution center, however, because that is not what stores were originally designed to do.
Q. Will the challenge increase as the volume of shipping in the U.S. increases?
A. It's a problem — or an opportunity, if you look at it that way. Volume could actually be part of the solution. The more you ship, the more you can afford to build or acquire distribution centers or invest in more automated, cost-effective ways to carry inventory.
There are several startups out there looking for automated solutions. I had one executive from Takeoff Technologies Inc. come to talk to my course this spring. They designed an automated distribution module that can fit in the back of a grocery store, which could really change the economics of grocery delivery.
There are other startups, InstaCart for example, that walk through the aisles and shop for you, but that is much more expensive. Takeoff's solution could be more efficient and could serve multiple stores. One Kroger in Charlottesville, for example, could coordinate and distribute all goods for delivery for the rest of the local Kroger stores, rather than having each individual store run delivery and pickup operations.
I think there is a huge potential for technology like this to disrupt the industry and challenge Amazon, particularly in the grocery business, a category that has already proven tough for Amazon.
Q. What other possible solutions do you see?
A. Retailers could come together to create a "last-mile exchange," which is one possibility we wrote about. It would require an Uber-like platform, where buyers and sellers could collaborate to share resources, deliver packages together and dynamically adjust to demand fluctuation.
Traditional retailers like Macy's or Nordstrom, which cannot afford hundreds of distribution centers, could band together around such a platform. An exchange could also be a next step for FedEx or UPS. It's a risk, because they would disrupt their own business model, but that might be better than getting disrupted.
Q. What might the future of the "last mile" look like, 20 or 50 years down the road?
A. I think by 2050 we will have a lot of autonomous vehicles on the road, which will make many of the things we are talking about — shaping demand and using efficient routes — much easier. The question then will be how the package gets from the car to the door. Can that become automated? Or can we change consumer expectations somehow?
The first article I wrote about the "last mile" came out 20 years ago, highlighting the risks for several startups working on it at the time, which later failed. I said then that companies will continue to experiment and figure this out, and that sort of experimentation is just as important today.
Most of us 20 years ago were happy if a package came within the week. Now, we are trained to expect two days or less. Companies will have to manage those evolving expectations — and the fundamental economics — while also still being willing to innovate and try new things.
This article originally appeared on UVA Today.
More from
Operations & Technology