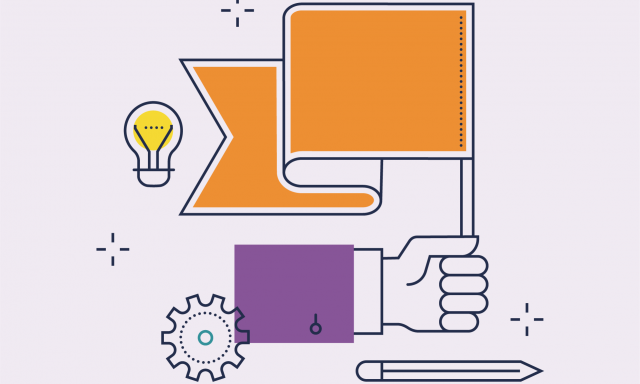 How to Raise Your Leadership Game, Part 1: The 9 Cs Enterprise-Perspective Model
To compete in today's complex business environment, executives must excel at making decisions with an enterprise perspective. "An ability to think broadly and connect the dots among various aspects of the enterprise," says Darden Professor Elliott N. Weiss, an authority on operations management, "is more critical than ever."
So how can managers develop this capability? Weiss has created a holistic model that captures nine enterprise-perspective essentials — among them, customer, capabilities, control, coordination, competition, context, culture and community. Integrating these essentials seamlessly, he suggests, enables the ninth, in which leaders create value for all stakeholders.1
Customer
Let's start with an easy-to-understand example — Pal's Sudden Service. A hot-dog-and-burger chain with 29 locations around Kingsport, Tennessee, Pal's consistently outperforms local McDonald's and other competitors in the fast-food industry while maintaining a near cult status among its customers. Its recipe for success? The chain's founder Fred "Pal" Barger and CEO Thom Crosby strive to ensure that the company's various functional areas consistently work together to deliver what the customer (the first C) values most.
Weiss emphasizes that, first and foremost, leaders with a true enterprise perspective focus their organizations' attention on the customer. They begin by identifying the customer value proposition and routinely consider the order-winning criteria (OWC), which are often categorized in terms of cost, quality, speed, flexibility and innovation.2  "The OWC are linked to who the customer is, what the customer behavior is, and what the customer needs and is willing to pay for," explains Weiss.
Pal's menu offers standard fast-food fare, but it's of high quality, delivered quickly and flawlessly and at a fair price. Customers know they can count on these order-winning criteria.   
Capabilities
At the heart of Pal's ability to meet customer demand and achieve stellar financial results are several core capabilities (the second C), including talent management, leadership development, accountability, customer connectivity and lean operations. According to Weiss, companies must build their core capabilities around the customer value proposition, constantly asking, "What are our core competencies and unique and defensible potential for creating value for this customer group?"
Pal's value proposition is based on quality and a fanatical devotion to speed and accuracy, so it's hardly a surprise that its leaders make operational decisions with that in mind. 
As a drive-through, Pal's doesn't offer sit-down service. Customers pull up to one window to place their orders, which takes an average of 18 seconds. They pick up their orders at a second window, where they spend an average of 12 seconds. All of this happens four times faster than at the second-speediest competitor in the country.3
To minimize ordering errors, the chain eschews the use of loudspeakers. Instead, customers place their orders face-to-face with a Pal's employee. Despite the high volume of traffic, Pal's makes only one mistake for every 3,600 orders, 10 times better than the average quick-serve restaurant.4
Those results are no accident. One of Pal's capabilities is deliberate focus on talent management — hiring, developing and retaining the best employees. The turnover rate at Pal's is under 25 percent, less than a third of the industry level.5  The company hires for attitude rather than skills and continuously trains its employees, from how to iron the uniform to how to do statistical process control. That dedication to employee development earned Pal's a Malcolm Baldrige National Quality Award, placing it in the ranks of Ritz-Carlton and Federal Express.
To ensure high quality, Pal Barger, who opened the first location in 1956, made the decision to simplify the menu, focusing on getting a limited selection of foods just right for the customer. In addition, Barger has turned down numerous franchising offers. "We just do things differently here," he said. "I've never had any regrets about expanding slowly and keeping the menu down. We have to get the right people in place and have the right location before we move on. Otherwise, we don't."6
Like Pal's founder, leaders with an enterprise perspective ensure alignment and consistency between a company's mission, capabilities, processes and the skills, values and behaviors required of its employees in order to best serve the customer. Pal's efforts illustrate how decision-making with an entire organization in mind can drive success, even in a notoriously difficult market typically characterized by soaring employee turnover, high error rates and low return on investment.
Part 2 examines the importance of having the right culture — the seventh C in the enterprise-perspective model — which enterprise leaders create while building the associated strategic capabilities.
This post is adapted from the technical note Leading With an Enterprise Perspective: The 9 Cs Model (Darden Business Publishing), by Darden Professor Elliott N. Weiss, Senior Researcher Gerry Yemen and Case Writer Stephen E. Maiden.
1Elliot N. Weiss, Gerry Yemen and Stephen E. Maiden, Leading with an Enterprise Perspective: The 9 Cs Model. Technical Note UVA-OM-1601. The authors note that the first eight categories map onto the standard core courses for a typical MBA program: marketing (customer), operations (capability and coordination), accounting (control), strategy (competition), finance and economics (context), organizational behavior (culture), and ethics (community).
2Ibid.
3Bill Taylor, "How One Fast-Food Chain Keeps Its Turnover Rates Absurdly Low," Harvard Business Review Digital Articles, 26 January 2016.
4 Ibid.
5Joanna Fantozzi, "Tactics to Fight Store-Level Turnover," Nation's Restaurant News, 6 May 2019.
6Bill Carlino, "In Pursuit of Excellence," Nation's Restaurant News, 13 May 2013.
More from
Leadership & Management