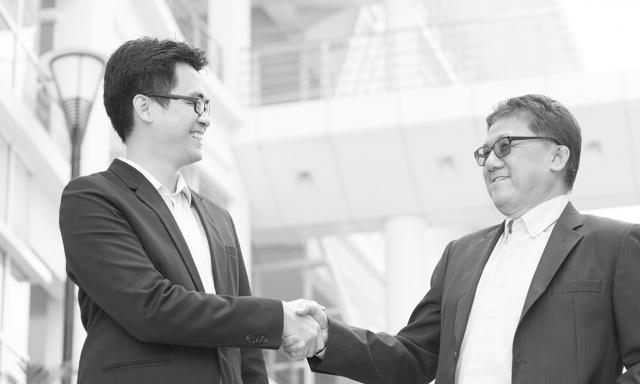 Growing Family Business in Emerging Markets
With globalization and modernization of management, experts have long predicted a gradual decline in family business because of the perceived advantage of public firms to raise capital and attract top professional managers. But family firms are more prevalent than one might think — in the U.S., founding families are still present in about one-third of the S&P 500 firms — and, contrary to predictions of demise, the influence of family firms continues to grow. By 2025, according to recent research by McKinsey & Co., more than 15,000 companies worldwide will have at least $1 billion in annual revenues; 37 percent of these will be emerging-market family firms. Asia will be the hotbed for firm growth because of its cherished tradition in family business and the prospect of rapid economic growth over the next decade or two.
The Asia Initiative of Darden School of Business recently hosted a forum, Family Business Going Global: Connecting Practice to Research, in Shanghai, China, led by Darden Professors Dennis Yang, Frank Warnock and Yiorgos Allayannis. The forum leveraged the expertise of both scholars and family-business owners from the U.S., China, Hong Kong and other Asian economies, who shared perspectives on how family businesses can achieve healthy growth in increasingly global markets.
Novel facts, experiences and insights on the challenges and opportunities facing family businesses in Asia emerged from stimulating presentations and constructive discussions. The big questions that arose from the forum centered on how family firms can best prepare to deal with succession planning, how to implement best practices regarding corporate governance and what kinds of incentives family firms should put in place to increase value.
Despite strong family influence among Chinese societies, relatively few family firms have reached international prominence. In the Forbes 2015 list of Top 100 companies, 48 are from Europe, 27 from the United States, only two from the greater China region and none from mainland China. Most family businesses in China are still in the first generation, given that privatization from central planning only began about three decades ago and state-owned enterprises still play a dominating role in many strategic industries. Adopting effective succession mechanisms and expanding global production and networks are key for Chinese companies to grow bigger and stronger.
The performance of family firms in emerging markets is strikingly poor during succession periods, emphasized by Joseph Fan, author of the new book, Family Business Map (Palgrave Macmillan, 2014), and a professor at the Chinese University of Hong Kong. Based on data from 217 succession cases from Hong Kong, Singapore and Taiwan, his research shows that stock returns of the firms suffered 56 percent decline in market value in the five years prior to the leadership turnover. Average stock return achieves limited improvement in the post-succession year.
More generally, the maxim that family firms thrive in the first generation, are maintained in the second generation and go out of business in the third generation seems to hold in many cases. Family firms generally do not survive past the third generation: In one study by Belen Villalonga and Raphael Amit,only 1.6 percent of 8,500 family firms from around the world survived into the fourth generation, and only 0.4 percent into the fifth. In another study, they found that in a sample of large U.S. firms, family ownership creates value only when the founder serves as the CEO or the chair of the family firm (i.e., there is a founder's premium). Descendants serving as CEOs generally reduce value.
The findings of Fan and his co-authors suggest that family businesses have specialized assets — such as relationships with stakeholders, ideologies and/or assets jointly managed by family members or co-founders — that are difficult to partition and transfer across organizational boundaries. To overcome potential roadblocks, family businesses should plan at an early stage to choose the right model of ownership and management, which ranges from letting ownership dilute and setting up family trusts and foundations, to relinquishing control through partial or full exit.
The forum explored succession planning either by professional managers or by the next generation of family members. Baocheng Yang (MBA '04), whose parents founded the first private university in China, now serves as its vice president and provost. He recommended that members of the second generation should get involved in the family business as early as possible so that they understand the culture and earn the employees' trust. His view was echoed by two panelists and family-business owners, who joined their family enterprises after studying abroad. They each devoted significant time to specialized duties to win the respect and trust of their employees before taking over the top management.
The forum also revealed the aspirations of Chinese entrepreneurs who are taking their family companies global. Business owners at the forum are transforming traditional, labor-intensive manufacturing activities to production with intelligent technology and the Internet of Things. While the second generation of entrepreneurs feels proud of "made in China" pioneered by their parents, they are focusing on "quality in China" when expanding product sales in global markets. For instance, one panelist's company has developed sophisticated sensors on fishing equipment through collaboration with leading experts in Japan.
Global expansion also takes the form of foreign direct investment. Jerry Peng (MBA '03), a member of the Darden School Foundation Board of Trustees, is the chair and CEO of Tranlin Inc., the U.S. subsidiary of Shandong Tranlin Paper Company. Tranlin invested $2 billion to build a new factory in Virginia that applies world-leading proprietary technologies from China to produce tree-free and chlorine bleach-free paper tissue products, as well as humus-based organic fertilizer to serve consumers and farmers in the U.S. As China rose to No. 2 in the share of world expenditures on research and development while holding nearly $4 trillion in foreign reserves, outbound foreign direct investment will continue to increase in the future.
Globalization has presented challenges to emerging market companies in recruiting top talent. To search for solutions, Peng emphasized the value of business partnerships — the collaboration between family-business owners and professionals with deep knowledge and rich experiences in global markets. This approach can be a successful model for Chinese family businesses because of a large pool of Chinese professionals who have studied in the West and worked for multinational companies and the fact that members of family firms don't necessarily have experiences of studying or working abroad. Effective partnerships can help family firms succeed in a globalized world by building trust, bridging gaps and solving challenging problems.
There are close connections between research and practice. Feng Xi, senior vice president of Horizon Research and Consultancy Group, published two books, Healthy Index for Family Business and 2014 Overseas Chinese Corporate Reputation Report. These books highlight the distinctions between hard power, which depends on a company's capital, technology and products, and soft power, which depends on the company's culture, brand and reputation. The books' surveys indicate that Chinese companies investing overseas wield abundant hard power but insufficient soft power. He and his co-authors have devised a three-step strategy — "Going Out, Going In, Going Up" — for Chinese firms to succeed in overseas markets. These strategies contain eight dimensions of reputation building, including business ethics, social responsibility, localization, transparency and compliance. The two books provide valuable guidance for Chinese firms to transform their "Chinese style" into "international style."
Through activities such as this family business forum, Darden's Asia Initiative aims to provide a hub of global activities to bridge East and West, and to shape thinking and education regarding Asia and its relationship with the rest of the world.
This post was prepared by Darden Professor Dennis Yang, with input from Darden Professors Frank Warnock and Yiorgos Allayannis.
More from
Global Economies & Markets