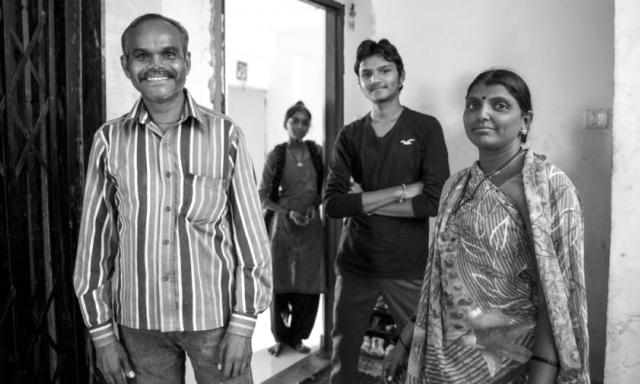 Griha Pravesh: A Public-Private Partnership
Public-Private Partnerships That Are Changing the World
The Darden School of Business' Institute for Business in Society partners with Concordia and the U.S. Department of State Secretary's Office of Global Partnerships to present the annual P3 Impact Award, which recognizes leading public-private partnerships that improve communities around the world. This year's award will be presented at the Concordia Annual Summit 24–25 September 2018. The five finalists will be highlighted on Darden Ideas to Action on Fridays leading up to the event.
The Partnership: 
Griha Pravesh
The Partners:
Brick Eagle
DBS Affordable Housing Pvt. Ltd.
Michael and Susan Dell Foundation
Indian Housing Federation (IHF)
Micro Housing Finance Corporation Ltd. (MHFC)
Saath Charitable Trust
The Social Challenge: 
Housing
Migration from rural to urban areas is growing at a fast pace in India and other developing countries. The lack of affordable housing available to migrants and other low-income populations leads them to live in informal, temporary settlements, which prevents inclusion into the urban community and limits access to basic facilities, including health care, education and options for a better livelihood.
The Idea and the Action:
The barriers for low-income populations to buy real estate in India range from the difficulties of obtaining legal documentation, lack of availability of reliable credit facilities and limited legal knowledge of the process. In addition, rampant fraud in real estate prevents them from investing their money out of fear of losing it. The entire process is so daunting that even some who can afford formal housing do not pursue it.
In response to these issues, Griha Pravesh, which means "house warming," was initiated with an aim of creating an ecosystem of affordable housing. The partnership not only provides infrastructural advancement, but also empowers households through training in housing, legal and financial matters.
In order to establish a sustainable model of affordable housing assistance, Griha Pravesh engaged multiple partners. Housing developers collaborated with Saath Charitable Trust to conduct surveys to understand the needs of the population. These surveys led to the offering of various types of housing by need, including rental, incremental, owned or improvement on an existing structure. The developers also support marketing strategies and program implementation that includes awareness campaigns, skills training and connections to other resources for prospective homebuyers.
Since the target population does not have easy access to credit from the mainstream banking sector, the housing finance institutions fill a critical need by providing lending. They also support financial literacy programs, which can lead to the use of mainstream banking and financial inclusion.
The Impact:
By creating a holistic model that incorporates skills training, financial inclusion and community development programs, Griha Pravesh addresses not only the need for affordable housing, but also for improved overall living conditions. The partnership encourages migrants and other low-income populations to move from informal settlements to formal housing in urban communities, which provide access to necessities such as health facilities, education and hygienic environments. And on yet another level, home ownership increases social status, empowerment and self-esteem.
The Faculty Insight:
Experience and studies have shown that to do more to uphold the human right to adequate shelter, we should eschew unilateral approaches and accept responsibility conventionally relegated to the public sector.
Social housing programs, as part of addressing abject poverty, are warranted. More importantly, governments can change laws and regulations and establish institutions so that housing markets and housing finance systems function well. This entails examining and fixing aspects of the entire complex system that not only make it difficult for lenders and builders to expand their customer base but also disqualify households or discourage them from even participating. Many countries still lack, for example, credit bureaus, property registration and property listings.
Key is hearing from the people themselves in order to understand housing issues and think about appropriate solutions. These segments of the population that have been overlooked might well prove that it is not unprofitable to serve them. Some microfinance and other Bottom of the Pyramid ventures have conceived of appropriate market-based solutions through consultation with stakeholders and the ultimate clients whose needs, preferences and capacities inform the innovative design of the products and services.
Investors, builders, property owners, financial institutions and civic organizations could help solve housing crises and housing backlogs found around the world. Griha Pravesh is committed to figuring out what works for (potential) homeowners and the businesses that work with them. The benefits accrue not only to homeowners, but also to the greater society. When nations are more effectively housing their citizenry, we can expect better health and environmental outcomes, as well as better socioeconomic conditions.
More from
Business, Ethics & Society