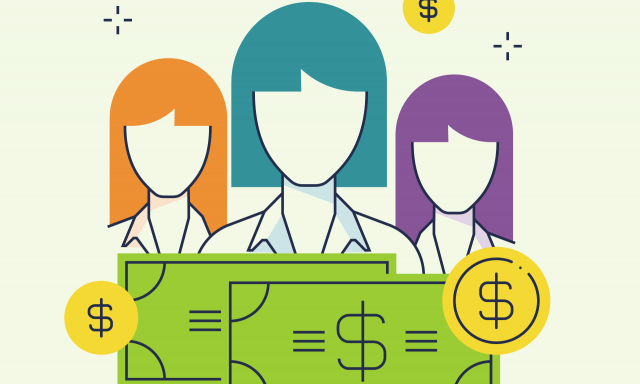 Entrepreneurship in China: The Rise of Female Billionaires
Despite turbulent markets and the COVID-19 pandemic, a record 456 Chinese made the 2020 World's Billionaires List, recently published by Forbes magazine.1
What's particularly interesting, says Darden Professor Ming-Jer Chen, a leading expert on East-West business strategy and competition, is China's cadre of self-made female billionaires who populate the list.
Most of the world's richest women, such as Alice Walton and Francoise Bettencourt Meyers, inherited their wealth. Of the 234 women on the list of 2,095 billionaires, only 67 are considered "self-made," which Forbes describes as those who have built a company or established a fortune on their own. Almost half of them hail from Greater China: 28 from the mainland and five from Hong Kong. India, a country with a population comparable to China's, has only two women who created billion-dollar fortunes.2
So, how did China forge so many self-made female billionaires? Darden's Chen shares his insights, shedding light on China's unique history, culture and business environment.  
Middle Kingdom's Female Billionaires
Currently, the world's richest self-made woman is Zhong Huijuan, who chairs Chinese drugmaker Hansoh Pharmaceutical and is reportedly worth $16.3B. She's followed by Wu Yajun, who made her $13.7B fortune in real-estate development after founding Longfor Properties in the 1990s. Third on the list is Lu Zhongfang, who co-founded a test preparation firm Offcn with her son, and has a net worth of $9.5B.2
According to Professor Chen, Zhong, Wu and Lu represent a generation of women who are part of China's new class of super-wealthy entrepreneurs. "Most of those women are in their 50s or older," says Chen. "They witnessed the rough, turbulent time of Mao's Cultural Revolution and experienced both the hardship and the opportunities when China opened its door to foreign investment in 1979." What often fueled their entrepreneurial ambitions, says Chen, was their desire to make lives better for their children.
Their wealth comes mainly from manufacturing and real estate, but some increasingly pursue riskier opportunities in fintech, biotech and AI.
---
10 Richest Self-Made Women in the World
| | | | |
| --- | --- | --- | --- |
| Name and Source of Wealth | Age | Residence | Net Worth |
| Zhong Huijuan (Hansoh Pharmaceutical) | 59 | China | $16.3B |
| Wu Yajun (Longfor Properties) | 56 | China | $13.7B |
| Lu Zhongfang (Offcn Education Technology) | 77 | China | $9.5B |
| Diane Hendricks (ABC Supply) | 73 | U.S. | $8.7B |
| Zhou Qunfei (Lens Technology) | 50 | Hong Kong | $8.1B |
| Denise Coates (Bet365) | 52 | U.K. | $7.7B |
| Fan Hongwei (Hengli Petrochemical) | 53 | China | $6.5B |
| Wang Laichun (Luxshare Precision Industry) | 52 | China | $6.2B |
| Chan Laiwa (Fu Wah International Group) | 79 | China | $5.8B |
| Zeng Fangqin (Lingyi Technology) | 54 | China | $5.5B |
Source: Forbes World's Billionaires List 2020. (Net worth as of 11 May 2020.)
---
China's Economic Miracle
After World War II, free enterprise was anathema in China. In the days of the Communist Party Chairman Mao Zedong, capitalists were considered enemies of the state, says Chen. Then Mao's successor Deng Xiaoping had an idea: To become prosperous, China had to adopt some capitalist practices, while retaining its political ideology. Individual-owned enterprises were legalized in 1981, unleashing entrepreneurship and transforming China from an isolated agricultural society to a dynamic market economy.
China's manufacturing boom in Shenzhen and other special economic zones, which were allowed to experiment with capitalism, afforded women new job opportunities that they did not have before. Many successful female entrepreneurs rose from the factory floor, overcoming extraordinary circumstances.
Persisting Through Hardship
Working long hours is an unwritten rule in China. Last year, Alibaba's co-founder Jack Ma, writing on a Chinese social media site Weibo, defended the "996" work culture in the tech industry, in which employees are expected to be in the office from 9 a.m. to 9 p.m., six days a week.3
Like their male counterparts, female founders often work past midnight, according to Chen. This goes back to the Confucian work ethic, one aspect of which is chi ku — the act of persisting through hardship. "Those values," says Chen, "like working to exhaustion, are the unique characteristics of Chinese entrepreneurs both in mainland China and overseas."
According to Chen, another important aspect of Confucianism, which some credit for China's economic success, is individual sacrifice for the benefit of family, home town or employer.
Continuous Learning
At the start of the Cultural Revolution, all schools in China were shut down, with some universities staying closed until Mao's death in 1976. Those who could have been educated during that period are considered the lost generation.
Some female billionaires never went to college, but that didn't stop them from learning. "Education is highly valued in China," says Chen. As they grow their ventures, Chinese founders continue to upgrade their skills to keep up with their evolving roles. "That's why executive MBA programs are in great demand and have become the crown jewel of Chinese business schools." 
Networking and Guanxi
In China, personal networks — or guanxi — are critically important to new venture success. Chen describes guanxi as the connections that are defined by reciprocity and mutual obligation and are grounded in trust and shared experiences.4
Entrepreneurs operating in China must deal with a wide range of stakeholder groups, including key government officials and local community leaders. Female founders excel at that, according to Chen. "They tend to be more holistic in their thinking. They place more emphasis on their relationships with all key stakeholders and often hold nominal positions in local or central government."
Business Family
Equally important as guanxi is the notion of "business family." In traditional Chinese culture, explains Chen, the family serves as the basis for all types of organizations. Even though the family-based model of business isn't exclusive to ventures headed by female billionaires, it is critical to understanding the inner workings of Chinese firms, both large and small, according to Chen. "The ancient practice of thinking of business in terms of family," says Chen, "is not only a professionally and financially responsible thing to do within the Chinese economic context, but it also makes the head of the firm more approachable to her employees." In addition, in a typical business family the organizational structure is streamlined to cut red tape and facilitate fast decision-making.5
China's progress towards modernization and marketization gave women unprecedented career opportunities, empowering them to launch private enterprises and make fortunes in the process.
However, it would be a mistake to assume that in the past Chinese women were powerless and subservient to men, as they are often depicted in the West. In fact, says Chen, in Chinese the word for "wife" is pronounced "qi," which means "equal." As Chen put it, "In the Chinese tradition, women are accustomed to wielding significant power and influence, even though it may sometimes go under the radar."
This article was developed with the support of Darden's Batten Institute, at which Gosia Glinska is associate director of research impact.
1Forbes 34th Annual World's Billionaires List, 2020. https://www.forbes.com/real-time-billionaires/#459466ca3d78. (Accessed 11 May 2020.)
3Serenitie Wang and Daniel Shane, "Jack Ma Endorses China's Controversial 12 Hours a Day, 6 Days a Week Work Culture," 16 April 2019, CNN Business. https://edition.cnn.com/2019/04/15/business/jack-ma-996-china/index.html
4Ming-Jer Chen, Inside Chinese Business: A Guide for Managers Worldwide, Harvard Business School Press, Cambridge, MA, 2001. p. 45-65.
5Ibid., p. 19-44.
More from
Entrepreneurship & Innovation