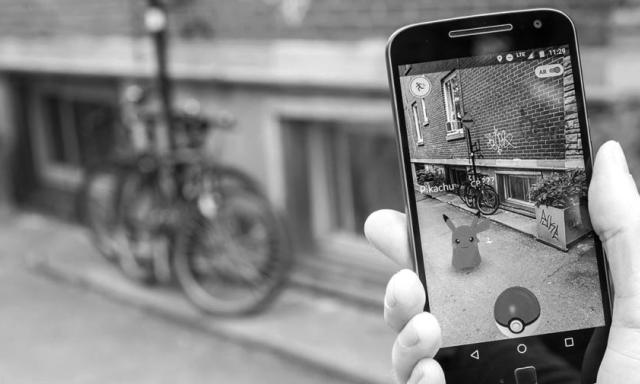 Consumer Pokénomics: Go-Time for Augmented Reality
Pokémon Go was a smash hit this summer. But did it also provide a glimpse into the future of consumer marketing?
For Darden Professor Lalin Anik, the answer is a resounding "Yes."
At a recent talk for the Darden Marketing Club, Anik used insights from economics, psychology and marketing to decode why Pokémon Go became the world's fastest-growing, most used and highest-grossing app. Titled "Pokénomics: Using Behavioral Economics to Hack Pokémon Go," her presentation explored what companies can learn about fan communities and interactive, real-time commerce.
Pokémon Go "does a spectacular job of leveraging behavioral insights to capture individual resources," says Anik, who studies how social connection affects consumer behavior. Those resources include "time, energy, emotions, mental and physical capacity" — and money.
Consider a few stats: Within 13 hours of its 6 July launch, Pokémon Go became the highest-grossing app, and in less than a week it garnered a record 21 million active users. The mobile game presents an augmented reality in which the player sees the real world, but with an anime-style makeover. A GPS image of where the player is in reality is overlaid with images of puffy clouds, shiny, blue cubes, and fanciful creatures under pink confetti!
Part of its power? Pokémon Go is highly "sticky." Roughly 70 percent of people who downloaded it played again the next day, a retention rate that's more than double the industry average. Initial data also showed users this summer spending more time playing Pokémon Go (43 minutes on average) than other popular social media platforms (about 25 minutes for Instagram and 22 minutes for Snapchat, for example).
So why did the craze take hold so swiftly and firmly? And what insights should marketers note?
Pokémon Go created a new, "in-between" place where gameplay flows into regular life. Unlike traditional gaming in which a player has typically been isolated (in front of a TV and a console), players in Pokémon Go physically move around in their communities, capturing Pokémon and incubating eggs, among other tasks. It piggybacks on Fitbit-style monitoring of physical goals, but adds in novelty.
The app harnessed the power of "social proof." You see fellow players out in the street, validating your participation and creating camaraderie. Social proof is powerful, Anik notes, citing eco-friendly "towel reuse" programs in hotels. Fewer people reuse when simply asked to help the environment. But when people are told that other guests who stayed in the same room chose to reuse their towels, the rates of participation soar.
Pokémon Go was easy to use and players "perceived velocity," says Anik. It's a low-threshold game; everyone has a smartphone, and the required finger dexterity is minimal. Because players are given a character and supplies right off the bat, it feels like they're starting "ahead."
The game captured word-of-mouth. With few codified rules, the game evolved and was updated without formal announcement, which appeared to drive engagement. Players needed to network and swap intelligence with others. "Word-of-mouth is one of the most powerful forms of marketing out there," Anik says.
Think augmented reality, not virtual reality. Snapchat's filters of butterfly crowns and doggie tongues have been wildly popular; Google Glass, not so much. People don't want to depart from their lives entirely, but a little enhancement is very appealing.
Pokémon's financial success — averaging $1.6 million per day in the U.S. in its first months — shows the power of transforming the transaction. Dollars buy Pokécoins, which in turn buy in-game shortcuts and supplies. Like casino chips, it all becomes "funny money."
In the future, the game might need to "find novel ways to motivate people," Anik observes. "It's a hierarchical game, and players who can't dedicate much time fall behind, while those who are way ahead have an easy time. Too much challenge or too little might be demotivating." The solution, she says, may be to "allow for collaboration and resource sharing. And perhaps create separate worlds." But don't lose the pink confetti.
More from
Marketing & Sales