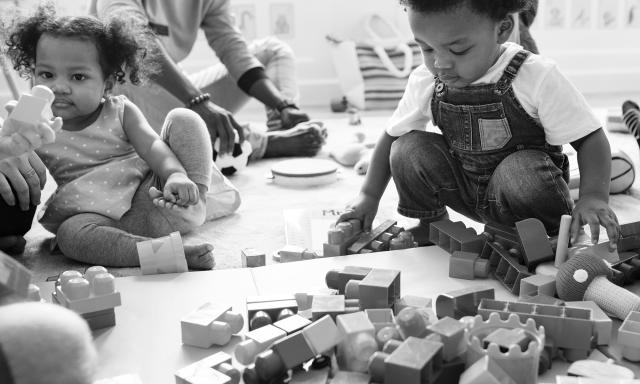 The Crisis in Child Care: A Tri-Sector Solution?
We are in the midst of a crisis in child care. That doesn't just mean for the parents or children directly and presently affected; if we don't invest in quality care now, society will literally pay for it later. This matter — which particularly affects women and girls — touches issues of health, income, crime, IQ, costs to families and the public, and an individual's ability to maintain steady employment.
At an event held by the University of Virginia Tri-Sector Leadership Fellows program, experts discussed how quality care now has direct societal ROI — and how to make things better.
Complex Issues and a Collaborative Approach
Mary Margaret Frank: For this program on the child care crisis, Tri-Sector Leadership Fellow Sarah Costa (MBA '21), a senior strategy analyst at Vanguard MBA Leadership Development Program, invited Lynette Fraga, CEO of Child Care Aware America, and Carolyn Miles (MBA '88), former president and CEO of Save the Children and currently special adviser and professor of practice at Darden, to have a wide-ranging discussion on the importance of and challenges around early care in America and around the world.
Sarah Costa: One of the things that drew me to Darden for my MBA was the Tri-Sector Leadership Fellows program (TSL). I'd worked at the intersection of the public, private and social sectors as a public library director before Darden, and the issues that most capture my imagination all exist at that complex cross-sector space.
I knew from my own personal experience as a working mom that child care was one of those sticky issues, and the COVID-19 pandemic turned what had been every parent's private crisis into a public one urgently discussed by business leaders, politicians, reporters and parents alike. TSL gave me the opportunity to facilitate a dialogue between current and future cross-sector leaders around this critical topic.
This interview is adapted from the conversation Costa and the TSL Fellows had with Fraga and Miles. The conversation was initiated at a TSL event in 2021, and the dialogue continues.
A Crisis of Imbalance
Q: Why is the current child care situation being called a "crisis"?
Miles: There are not enough spaces available for children in need of care, and of those available, very few are in high-quality programs. Child care is expensive for parents, often costing more than a mortgage each month, yet child care workers often make poverty-level wages. The unavailability of quality early care has long-term effects not just for those children and families, but for all society.
A Societal-Level Return on Investment
Q: What are those downstream effects of scarce or low-quality early child care?
Fraga: When you have quality early childhood education, there are numerous long-term outcomes: fewer incarcerations, money saved in K–12 special education, and positive health and wellness returns at a population level, to name a few. There is a huge, societal-level long-term return on investment, along with immediate and long-term improvements in outcomes for children and families. Economist James J. Heckman, winner of the Nobel Memorial Prize in Economic Sciences, calculates a 13 percent annual ROI for birth-to-5 programs by looking at a wide variety of outcomes including health, crime, IQ, schooling and increases in women's income. On the flip side, if we are not providing care to children early in life, we are all going to pay for it later, sometimes seven to 10 times more.
Miles: One thing we found at Save the Children was that children who didn't have preschool or organized care early in life were already 18 months behind when they got to pre-K, compared to their peers who did have access to early care. Investing in early care would help our K–12 education system work better by ensuring students are better prepared from day one.
Globally, it also means that the 8-year-old girl who is almost always pegged for caregiving is not going to go to school herself. It has a big impact on girls' education worldwide. Save the Children focused a lot of energy and resources on child care and early childhood development because investing in children is one of the best investments you can make. If you don't have the right nutrition and stimulation in those early years, it's very hard to make up that lost ground later in life. Over the past two decades, Save the Children just kept moving our interventions to younger and younger ages because of the dramatically improved mental and physical outcomes from that early access to care, as well as positive impacts on families.
Divergence in National Perspectives
Q: Is the child care crisis a uniquely American issue?
Miles: No, but America tends to frame it differently. The current focus on child care, especially in the U.S., has more to do with employment issues than about investing in children, which is a fundamental difference between how we think about the issue in the U.S. and how they think about it in other countries. Countries that handle child care well for everyone tend to have very progressive governments, progressive tax rates that are quite high at the top, and various social safety nets, but they also just genuinely believe in the importance of supporting families and ensuring children are taken care of early on. They view not investing in children as only understandable if a country does not have the resources to invest. From their perspective, investing in children is simply the smartest place to put their budgets.
Why the Market Can't Fix It
Q: Why isn't there already a market-based solution to this problem?
Fraga: The National Academy of Sciences issued a report on this very question. There are too many inputs and outputs for a neat market-based solution — including social good, poverty, low wages and workforce availability. Child care is expensive to provide because it's a highly regulated labor-driven service. In high-quality settings (and by most regulations), you need to have one adult for every four infants. Once you add fixed costs to those wages, it gets very expensive to run a quality program with skilled providers. In America we don't view child care as a public good like K–12 education that we tax broadly to support, so the entire financial burden of early care falls on parents who can't afford it, just as many couldn't afford private school.
Because of both the expense and the complexity, solving the child care crisis requires the combination of state, local and federal government; philanthropy; and business.
Miles: Despite high costs for parents, the younger the child being cared for, the worse the pay is for care providers. That leads to high turnover rates and low availability. But there are also other barriers for families worldwide, from child care hours that don't match their needs to transportation challenges. Without the sort of infrastructure and public support that K–12 education receives, the markets simply cannot provide affordable early care for all who need it.
Women and the Pandemic
Q: How did COVID-19 change things?
Miles: If you wanted an illustration of what happens to women's lives when they do or do not have child care, we got it with COVID. And we didn't just get it in the United States, we got it around the world. Women accounted for 100 percent of the net job losses at the end of 2020 in the U.S. Women are 15 times more likely than men to cite inability to find child care as the reason for their unemployment.
Fraga: We're worried about what's going to happen in the months ahead for women to be able to catch up with those lost wages and lost opportunities that they may not be able to return to. One other thing we saw in COVID-19 was that as the supply of available child care went down, costs to parents went up. Child care in Virginia costs $12–16,000 per year.
A Multistakeholder Problem Calls for a Multistakeholder Solution
Q: Not every country has the will or the resources to tax its way to a solution. What other ways are there to approach this challenge?
Miles: The crisis affects multiple stakeholders, and the solution must involve multiple stakeholders. Employers have a role, state and federal governments have a role, and individuals have a role. What passed as part of the American Rescue Plan Act is a start on that journey. With Save the Children, we increasingly saw philanthropy investing in early childhood development. Employers are also seeing benefits to investing in children, whether as part of their employee benefits or as part of their corporate giving programs.
Fraga: For generations, we have operated from a scarcity perspective when it comes to early childhood. We have an opportunity in this moment to think about early childhood investment as a change agent for supporting children, families, and our collective future in America and worldwide. It helps that we now have leaders who benefitted from excellent early childhood experiences that help them envision the art of the possible when it comes to solving this problem.
In Sum: Working Together
Frank: You can't tax and spend your way to a solution to every problem. That's why it's so important to have a program like Tri-Sector Leadership Fellows, so that our future leaders are engaged in these conversations with people from policy and business and law, getting inspired to creatively work together to solve problems that transcend any one company or agency.
Costa: Introducing my peers in law, business and policy to this issue through candid conversation with industry leaders was incredible. It sparked engagement that continued long after the program ended. That continued conversation is part of what makes TSL special: It's not just an opportunity to dialogue with current change agents, but it's building a network of future leaders as well who ask questions, engage deeply and build solutions across sectors.
The Tri-Sector Leadership Fellows program brings together students from the University of Virginia Darden School of Business, University of Virginia School of Law and Frank Batten School of Leadership and Public Policy. They engage with high-level leaders from across the public, private and social sectors to discuss complex challenges that require a multisector collaborative approach to resolve.
More from
Business, Ethics & Society