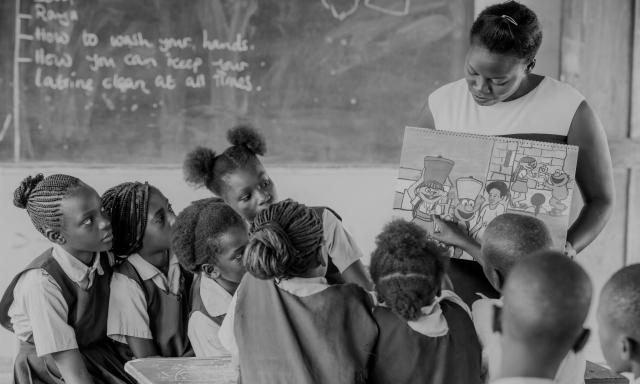 Muppets, Sanitation and Children as Change Agents Around the World
The Social Challenge
Health and Sanitation Education
The greatest global health challenge for children is disease related to water, sanitation and hygiene. Pneumonia and diarrhea are the leading causes of death for children under the age of 5, taking more lives than measles, AIDS and malaria combined, as reported by UNICEF. That's why the need for proper water, sanitation and hygiene (WASH) education is critical. Research shows that simple WASH behaviors, such as handwashing with soap, can reduce the rate of child morbidity by nearly 40 percent. Moreover, the COVID-19 pandemic has illuminated, on a global scale, the necessity for effective handwashing and other hygienic behaviors.
The Partnership
Wash Up!
The Partners
Sesame Workshop

World Vision
The Idea and the Action
To address these health challenges, Sesame Workshop and World Vision established the Wash Up! initiative with the ultimate goal of reducing the number of children suffering or dying from preventable and treatable diseases.
Wash Up! is based on the widely held tenet that children are change agents and can be empowered through knowledge to share critical messages to others in an organic and sustainable way. By leveraging Sesame's proven formula of research-driven education programming and world-famous Muppets, World Vision's local presence and commitment to schools and communities, and expertise in the WASH sector, the program equips children with the necessary tools to practice healthy behaviors, ultimately leading to lasting behavior change and positive outcomes in homes and communities.
Piloted in Zambia in 2015, Wash Up! aims to promote behavioral changes by empowering children with the knowledge and skills to teach their friends and families about staying healthy. Reaching children ages 6–10 through school- and community-based clubs, Wash Up! uses the influence of the Sesame Workshop Muppets to model behaviors, talk to children, and give them the language to talk about topics that in some cases may be taboo, like toilet use. Raya, a 6-year-old aqua green Muppet, is Sesame's WASH ambassador, helping teach children about proper handwashing, hygiene, toilet use and safe water, through educational video content, games, storybooks and more. Led by World Vision's local teams and Sesame Workshop's education team, teachers and administrators receive training on WASH concepts, while participating schools receive infrastructure to support WASH best practices, such as boreholes and handwashing stations.
The program has since expanded to 15 countries in sub-Saharan Africa, Latin America, the Middle East and South Asia. Over the last five years, the partnership has continued to evolve and take on new thematic challenges within the WASH space, creating new modules and content focused on topics like menstrual hygiene management and neglected tropical diseases to better address local needs.
The Impact
Working in 15 countries, Wash Up! has directly reached over 200,000 children. Summative research shows significant changes in knowledge for participating students. Research conducted in Zambia with grade one students shows an increase in germ knowledge of 61 percent. Additionally, the share of students who cited unsafe water sources, such as hand dug wells and rivers, as "safe" fell by over 50 percent. Further research is planned for India, focusing specifically on how messages are shared from children to their families, as well as sustainable strategies for operations and maintenance of WASH systems to ensure that necessary infrastructure is present and functioning.
Sustained social impact is catalyzed by a disruption in social norms. Wash Up! endeavors to create an ecosystem for children in which they are receiving key hygiene messages in school, learning from their teachers and accessing the infrastructure that enables behavior change.
For example: In Ghana, children took it upon themselves to build handwashing stations using local materials. In Zambia, children demanded soap from school management to be able to practice handwashing. A father in Afghanistan said that his son taught him that soap is necessary to rid your hands of germs that make you sick. In Zimbabwe, girls in the Girl Talk program (focused on menstrual health) taught their mothers how to sew their own menstrual pads — and now these women have a new income-generating opportunity. Moments like these make hygiene a sustained part of conversation and reinforce healthy behaviors at school, at home and in communities.
Institutional support is crucial for sustainability, and Wash Up! engages governments to integrate the program into local education systems. In Zambia, the program has been endorsed by the Ministry of Education for daily inclusion, and in Ghana, members of the Ghana Education Service have been trained and act as master trainers to expand the program.
The Faculty Insight
The Wash Up! partnership introduces a timely and effective set of interventions to promote behavioral change in sanitation and hygiene among children. This initiative leverages behavioral insights such as the power of social proof, disruption of existing social norms, and normalization of simple yet often forgotten behaviors — such as handwashing — to educate and empower children. Furthermore, with the help of Raya, a personable and relatable Muppet, Wash Up! provides a common language that children can use to discuss stigmatized or uncomfortable topics. Common language is crucial because it allows for breaking of taboos while building a shared culture around agreed-upon rules and norms. Common language also leads to a stronger sense of identity, trust and belonging among children, who are then more likely to coordinate their efforts and collaborate toward collective action.
Importantly, this initiative recognizes children as change agents. Just like early seatbelt interventions that educated children who then nudged their parents to wear seatbelts, this program has the potential to increase engagement in health behaviors not only among children, but also among adults in the long term. It is rare and exciting to come across such a powerful initiative that influences a diverse set of people in a community, unites them around a common goal and creates good in the world.
The Darden School of Business' Institute for Business in Society partners with Concordia and the U.S. Department of State Secretary's Office of Global Partnerships to present the annual P3 Impact Award, which recognizes leading public-private partnerships that improve communities around the world. This year's award will be presented at the digital Concordia Annual Summit 21–25 September 2020. The five finalists will be highlighted on Darden Ideas to Action on Fridays leading up to the event.
This article was developed with the support of Darden's Institute for Business in Society, at which Maggie Morse is director of programs.
More from
Business, Ethics & Society