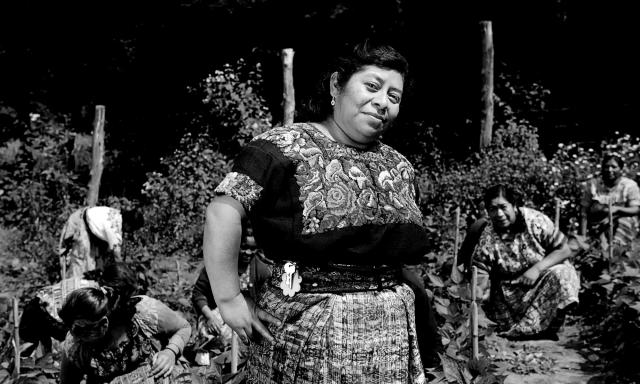 The Partnership for Central America: Encouraging Economic Development
The Social Challenge
Economic Development and the Root Causes of Migration
Irregular migration from Guatemala, Honduras and El Salvador to the United States is deeply rooted in a lack of economic opportunity, high levels of violence and citizen insecurity, an increase in climate volatility and a desire for family reunification. Structural impediments and stagnant economic growth do not aid in fulfilling the need for the number of quality formal jobs that the region's growing labor force requires. Investments in education, health care and transportation infrastructure are needed to promote economic development, in addition to vocational and job training to develop a more skilled workforce.
This situation stems from a variety of structural factors, including low levels of private sector investment, low labor productivity and a lack of skilled workers, high levels of labor informality, and challenges in promoting the rule of law, sound governance, and legal certainty.
Governments, companies and institutions working together can work toward practical solutions, mobilize humanitarian aid and new investments, and offer hope and opportunity to potential migrants for a better life.
The Partnership
The Partnership for Central America is an independent, nongovernmental and nonpartisan organization that was launched in May 2021 in support of the Call to Action for Central America announced by United States Vice President Kamala Harris in May 2021, working with businesses and social enterprises to make new, significant commitments to address the root causes of migration through economic opportunity in the region. In support of the Call to Action, it partners closely with the U.S. Department of State and the U.S. Agency for International Development (USAID.
The Partners
Accion

Amazon Web Services (AWS)

Applaudo Studios

Arizona State University (ASU)

Bancolombia

CARE

Cargill

Clinton Health Access Initiative

Davivienda

Development Finance Corporation

Diversio

EGEAC

Fundacion

Terra

Gap

Give

Directly

Glasswing

Grupo Mariposa

HUG

Inter-American Development Bank

Latin American Partners (LAP) Fund

Mastercard

Meta

Microsoft

Millicom

Nespresso

Parkdale Mills

PepsiCo

PriceSmart

ProMujer

Technoserve

Tent Partnership for Refugees

University of Miami

Visa

World Economic

Forum
The Idea and the

Action
The partnership believes that every person and family has the right to a life of dignity, prosperity and security in their home country. Governments, businesses and civil society can work together in partnership to offer measurable hope and opportunity to the people of Central America for better lives in their homelands.
The partnership supports private sector entities through key actions:
Mobilize investments: Help organizations identify strategic growth opportunities and navigate paths to invest in Central America in support of both business growth strategies and ESG investment strategies.
Coordinate public-private partnerships: Facilitate public-private partnerships across six key program areas (financial inclusion, digital inclusion, education, health, climate resilience and gender equity) to maximize business and social impact.
Convene:

C

onvene public forums and facilitate discussions on challenges, trends and progress toward aspired social impact goals to increase visibility and engagement on shared objectives.
The Impact
The Partnership and Call to Action partners have mobilized $3.2 billion in investment in the region following Vice President Harris' May 2021 Call to Action to Deepen Private Sector Investment in Central America.
In just one year since launch, investments made by partners have translated into meaningful progress:
Microsoft expanded broadband access for nearly 2 million families who were previously

disconnected.

Over 400,000 individuals were brought into the formal economy with bank accounts and/or access to credit by Mastercard, Accion, Davivienda and Bancolombia.

CARE reached over 450,000 individuals with skill-building services and economic empowerment efforts.

Nespresso sourced its first coffee from

Honduras.

In Her Hands was launched, a women's economic empowerment initiative aimed to bring a gender lens to investment in the region.

More than 20 companies have committed to support the Central American Service Corps (CASC), which aims to provide thousands of young people with paid community service opportunities, mentorship and a path to future employment.

Harvard T.H. Chan School of Public Health, the Reform for Resilience Americas Hub, Fraym and Gallup launched a white paper, which highlighted the importance of these and other efforts to build a sense of "rootedness" in Northern Central America. The paper explored the benefits of using a newly developed Impact Metrics Dashboard to identify localized community needs and target investment accordingly, in order to make it possible for individuals to thrive without leaving home.
The Insights
Central America accounts for 17 percent of the estimated unauthorized immigrant population in the U.S. as of 2018, with the top three origin countries — El Salvador, Guatemala and Honduras — accounting for 85 percent of the total.1  The humanitarian cost of unauthorized immigration has motivated an array of polices in the U.S. to curb its increase.
U.S. policy has been mostly focused on increasing the direct costs of unauthorized immigration. While the literature has found some static effects on immigration deterrence due to these policies,2  it has also found that stronger border protection can trigger a dynamic cycle of criminal gangs and exploitation.3 4  Therefore, an alternative would be to focus not on the direct costs of migration but the opportunity costs of these immigrants. Why are they leaving their countries? What are they leaving behind?
The literature has identified at least three important drivers for migration. First, a central force leading people out of Central America is local violence.5  Second, migrants seek better economic opportunities in a new location. In fact, even within the U.S., economists have used local fracking booms to study interstate migration.6  Not surprisingly, key drivers for the GDP of El Salvador, Guatemala and Honduras are the resources sent by their diaspora abroad. In fact, remittances account typically for 10 to 20 percent of the GDP of these three countries. Thus, immigrants don't sever their connection with their home countries; they do their best to provide for the ones they leave behind. Third, natural disasters are key drivers of migration, even within the United States, coastal cities see outflows of migration after hurricanes.7  Because Central America is in the middle of "hurricane alley" and the countries' governments lack the resources to handle large natural disasters, it is not surprising that people losing everything in their home countries look to start anew abroad.
The Partnership for Central America aims to increase the opportunity cost of migrants to leave their countries. In fact, creating local job opportunities can reduce poverty and violence and provide the means to support a family without having to leave the country. Moreover, the focus in climate resilience can help these economies to be better prepared and endure the forces of nature such that local population does not lose everything in the event of natural disaster; moreover, climate action can help prevent the frequency of these events, providing fewer incentives for people to leave their countries.
The Darden School of Business' Institute for Business in Society partners with Concordia and the U.S. Department of State Secretary's Office of Global Partnerships to present the annual P3 Impact Award, which recognizes leading public-private partnerships that improve communities around the world. This year's award will be presented at the Concordia Annual Summit the week of 19 September 2022. The five finalists will be highlighted on Darden Ideas to Action on Fridays leading up to the event.
This article was developed with the support of Darden's Institute for Business in Society, at which Maggie Morse is director of programs.
1Erin Babich and Jeanne Batalova, "Central American Immigrants in the United States," Migration Policy Institute, August 2021 https://www.migrationpolicy.org/article/central-american-immigrants-united-states#:~:text=The%20total%20Central%20American%2Dborn,million%20(see%20Figure%201).
2Mark Hoekstra and Sandra Orozco-Aleman, "Illegal Immigration, State Law and Deterrence," American Economic Journal: Economic Policy 9, No. 2 (2017): 228-52.
3Douglas S. Massey, Karen A. Pren and Jorge Durand, "Why Border Enforcement Backfired," American Journal of Sociology, 121.5 (2016): 1557-1600.
4María Micaela Sviatschi, "Spreading Gangs: Exporting US Criminal Capital to El Salvador," American Economic Review 112.6 (2022): 1985-2024.
5Michael A. Clemens, "Violence, Development and Migration Waves: Evidence From Central American Child Migrant Apprehensions.," Journal of Urban Economics 124 (2021): 103355.
6Riley Wilson, "Moving to Jobs: The Role of Information in Migration Decisions," Journal of Labor Economics 39.4 (2021): 1083-1128.
7Eric Strobl, "The Economic Growth Impact of Hurricanes: Evidence From US Coastal Counties," Review of Economics and Statistics 93.2 (2011): 575-589.
More from
Global Economies & Markets