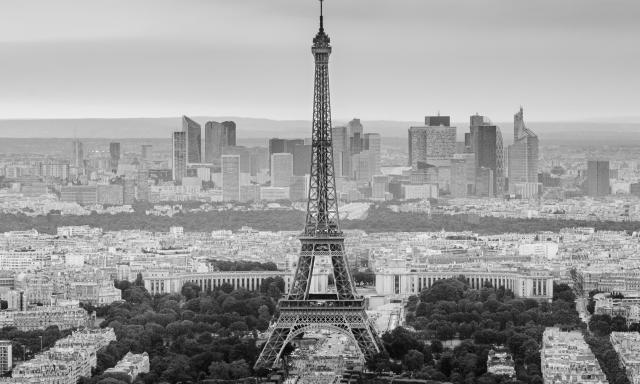 Macron and French Resistance: Economic Growth and Labor Policy
The Big Idea
French President Emmanuel Macron swept into office with huge popularity and an ambitious labor reform agenda, but once reality hit, the public responded with dismay and outrage to his spending cuts. In the face of protests and declining popularity, will Macron have the political will (and clout) to make the French economy more agile?
The Scenario
France's social benefits are among the most generous in the world: pensions and unemployment benefits, free health care and university tuition. Railway workers' jobs have had lifetime guarantees. The programs were comprehensive, but the tab was hefty. Even though France's corporate tax rate exceeded 44 percent (the highest among the world's richest countries), the state couldn't cover the 500 billion euro annual cost. Public debt rose to $5.2 billion euros, exceeding GDP.
Macron argued that heavily pro-worker policies smothered economic activity and individual initiative, leading to high unemployment. In his predecessor's administration, Macron had served as minister of economy, industry and digital affairs, pushing through reforms that allowed businesses greater flexibility in hiring, layoffs and opening hours. These moves boosted the rate of businesses startups and helped generate economic growth — before Macron, France yielded fewer than two new registered businesses per 1,000 workers, compared to double-digit startup rates in peer countries like Australia, Chile, Norway and the U.K.
Emboldened by these successes and now in the president's seat, Macron proposed a second round of labor changes, including pension cuts, lowered business taxes and, for some industries, deregulation. But these big changes sparked big blowback. Yellow vest protests — bonfires, barricades and clashes with police — exploded across the country. Detractors accused him of favoring the wealthy, calling his approach grandiose and heavy handed. (Choosing Versailles as the location for his first presidential address to parliament didn't help.) Macron's popularity, once at 70 percent approval, sank to 23 percent in late 2018.
The Resolution
Yellow vest protests sent a message. Responding to the outcry, Macron adopted a humbler, more conciliatory stance. In a three-month span, he hosted 10,000 town hall meetings, particularly in rural areas. He backed off some of his least popular proposals, such as a gas tax.
But Macron has not reversed course in reducing government spending in hopes of spurring private enterprise. While it's early to draw conclusions, there are signs of a tenuous compromise. Macron's approval rating — while still far from its height — has inched up as unemployment has crept down. Yellow vest protests have died down.
The Lesson
Many French citizens want full social protections and reduced taxes, an equation that doesn't balance. In pushing for reform, Macron is following peer nations like Germany and Japan in looking to generate long-term economic growth through supply-side reforms.
Politics is a game of vision, persuasion and resilience. In his second year, Macron has a long road ahead.
Daniel Murphy authored the case Modernizing France or Dismantling Its Social Contract? Macron's Reforms (Darden Business Publishing) with Paul Holtz.
More from
Global Economies & Markets