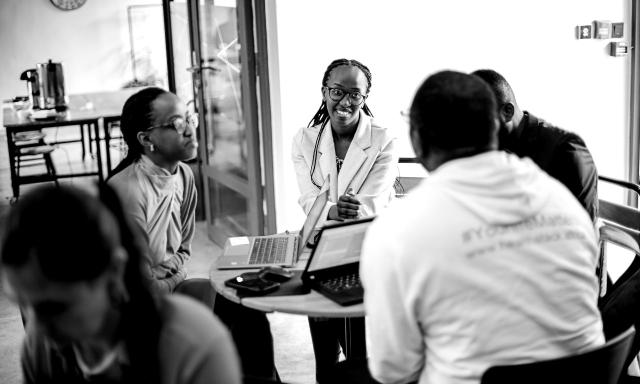 The HealthTech Hub Africa: Implementing Digital Strategies
The Social Challenge  
Delivery of Health Services
Africa represents 22 percent of the global disease burden, yet only 3 percent of the world's health workforce.
Technology and innovation hold promise not only for addressing some of the most urgent health challenges but also for creating meaningful job opportunities. While many African countries have developed national digital health strategies to support delivery of health services, implementing these strategies can pose significant challenges. This includes challenges in collaborating with innovators to create locally developed solutions, scaling proven products and initiatives within public health systems, and securing sustainable sources of funding.
The Partnership
The HealthTech Hub Africa
The Partners
Novartis Foundation

The Global Fund to Fight AIDS, Tuberculosis, and Malaria

The Patrick J. McGovern Foundation

Norrsken Foundation

Bridge for Billions

Centre for Fourth Industrial Revolution Rwanda

Ministry of Health, Rwanda

Ministry of ICT and Innovation, Rwanda

Rwanda Biomedical Center

Ministry of Health, Senegal

University of Basel

City Cancer Challenges

Medtronic Labs

FIND (the global alliance for diagnostics)

BETTEReHEALTH

Village Reach

PwC Kenya

Impact Hub Dakar

nuvoteQ

Inspired Minds

Africa Digital Health Summit Nigeria
The Idea and the Action
The HealthTech Hub Africa (HTHA) is a hybrid Pan-African health tech accelerator with a physical co-working and community space in Kigali, Rwanda. It works to drive development of health technologies in Africa and fast-track these innovations in public health systems through collaboration with government partners and funders of global health. By doing so, HTHA aims to support African governments in tackling their largest health challenges, particularly those faced by low-income and underserved populations. 
HTHA is unique in its dual mission, focused on meeting the needs of both entrepreneurs and governments as they collectively work to advance health equity. HTHA provides a 10-month innovation and investment readiness program for entrepreneurs working on health tech solutions, including master classes, one-on-one mentoring, business development training and fundraising workshops. In parallel, HTHA has established an Intergovernmental Working Group, which brings those entrepreneurs together with government leaders to develop policy blueprints for the validation and integration of health tech solutions into public health systems.
The Impact
Since 2022, HTHA has supported a total of 68 organizations — both nonprofit and private — across 17 African countries: Algeria, Botswana, Cameroon, The Democratic Republic of the Congo, Ethiopia, Ghana, Kenya, Libya, Malawi, Nigeria, Rwanda, Senegal, South Africa, Tanzania, Uganda, Zambia and Zimbabwe.
In 2022 alone, HTHA's cohort of 30 growth-stage startups from 11 African countries collectively reached over 1.4 million beneficiaries, raised more than $14 million in capital, and created nearly 300 jobs. In 2023, highlights from fast-tracked innovations in public health include:
Over the next three years, HTHA aims to support more than 120 African companies in reaching more than 3 million people across the continent, raise $50 million of funding, and create 1,200 local jobs — while also supporting 100 policymakers from more than 20 African countries in developing national health and technology policies.
The Faculty Insight
The health care burden in Africa is immense, and the continent is especially known for its struggles with infectious diseases such as malaria, tuberculosis and HIV. However, as the issues with infectious diseases are slowly conquered, the disease burden is now shifting to diseases associated with affluence: cardiovascular and respiratory diseases, diabetes and cancer. As the economies in Africa grow and a middle class emerges, the United Nations estimates that these new diseases will be the leading cause of mortality by 2030.
While one of the great challenges to health care in Africa is the lack of infrastructure, this challenge provides the opportunity to build a system with prevention in mind. On the other end of the spectrum, the United States benefits from existing infrastructure, but the health care system is built on fixing — not preventing — health care problems, and overcoming this bias is difficult. Emerging health care technologies could provide avenues for preventive health, which should be the foundation for all health care systems.
Additionally, the shortage of health care workers in Africa hampers the treatment of diseases, adding to both morbidity and mortality, and health care technology could provide platforms enabling the extension of existing health care workers to both manage and prevent diseases.
The growth of smartphone technologies and fintech in Africa has been robust and provides ample evidence that the population is poised to utilize new health care technologies, especially those aimed at consumers. This is vital, as the ability to track and manage diseases via consumer platforms — particularly ones that can integrate into developing health systems at the ground level — could transform the health care industry in Africa.
HealthTech Hub Africa has been traveling along this path with a track record of supporting health care technology startups across 17 African countries, serving over 1 million patient lives and employing over 300 people. Its system is scalable and poised to expand, offering dramatic improvements in health through supporting entrepreneurs and bringing bright minds together with the capital to implement new ideas.
The Darden School of Business' Institute for Business in Society partners with Concordia and the U.S. Department of State Secretary's Office of Global Partnerships to present the annual P3 Impact Award, which recognizes leading public-private partnerships that improve communities around the world. This year's award will be presented at the Concordia Annual Summit the week of 18 September 2023. The five finalists will be highlighted on Darden Ideas to Action on Fridays leading up to the event.
This article was developed with the support of Darden's Institute for Business in Society, at which Maggie Morse is director of programs. 
More from
Business, Ethics & Society